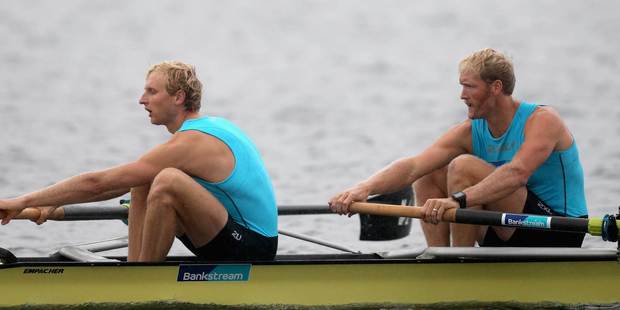 New Zealand's rowers have claimed a golden double and two world best times in non-Olympic classes at the world championships in Amsterdam.
The women's four of Kerri Gowler, Grace Prendergast, Kelsey Bevan and Kayla Pratt and the men's coxed pair of Hamish Bond and Eric Murray and coxswain Caleb Shepherd triumphed while four other crews advanced to finals.
Fast water on the Bosbaan helped the women's four beat the eight-year-old world best time by more than 10 seconds in 6:14.36. They won by more than six seconds.

The coxed pair beat the 20-year-old world best time by nearly nine seconds, clocking 6m 33.26. It is the second world best time held by Murray and Bond after they claimed the mark in the coxless pair at the London Olympics.

"The conditions were phenomenal today and allowed us to row to our potential," Murray said.
"Until this regatta we'd never been in [a coxed pair]. We'd heard rumours about them being a 'water taxi' or a 'lead sled' because you carry a coxswain down the course, but we found it's not too dissimilar to what we do in the [coxless] pair.
"[Coxswain] Caleb [Shepherd] has taken the men's under-23 eight to two world titles so he's got calibre and pedigree and listened to our philosophy.
"He kept us motivated and I hope we use the boat in future campaigns as a way to test our tour reserves so they can focus on some racing rather than just coming over to train. It's also a way for rowers to show they're worthy of competing in an Olympic boat class."
In the women's double scull semi-finals, Zoe Stevenson and Fiona Bourke were challenged by steering issues through until the 500m mark where they were positioned fifth.
They straightened up to finish third and make the final. Winners Australia broke the world best time set by Caroline and Georgina Evers-Swindell 12 years ago in Seville.
The men's lightweight four faced a crew change with Alistair Bond replacing an injured James Lassche. They advanced to the final in third. Lassche was given cortisone injections to alleviate pain in his back, but it is yet to relieve the discomfort.
Emma Twigg won her semi-final and Mahe Drysdale finished second to German Marcel Hacker, meaning both advance to the last six.
Karl and Robbie Manson finished fourth in their men's double sculls semi-finals meaning they missed a finals spot.

Tonight New Zealand contests finals in the Olympic class women's pair, men's pair, lightweight women's double scull and women's quadruple scull.