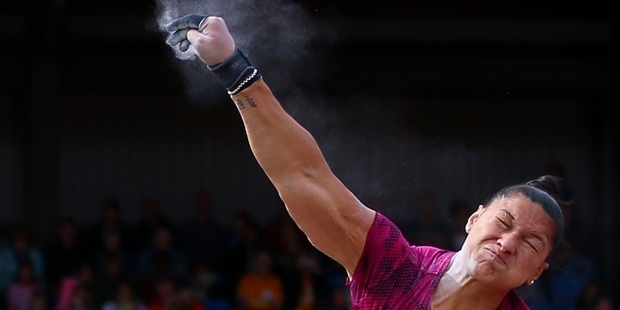 New Zealand's shot put aces continue to provide a significant presence on the world stage, after another strong weekend's work in Europe.
The peerless Valerie Adams rattled up her 55th successive victory - and 13th this year alone - by winning the Birmingham leg of the Diamond League competition yesterday.
The double Olympic and triple Commonwealth Games champion was not extended in Birmingham, producing her winning throw, 19.96m, at her first attempt. She followed with 19.92m, 19.95m and 19.73, along with two foul throws.
World No2 Christina Schwantz of Germany was second with 19.27m and Glasgow Games silver medallist Cleopatra Borel from Trinidad & Tobago was third with 18.62m.
Adams, who has 24 points in the league - the highest score among the high fliers across the disciplines - contests the final Diamond League meeting in Brussels on September 4, and finishes her season at the Continental Cup in Marrakech, Morocco.
Commonwealth Games silver medallist Tom Walsh, who won silver at the Diamond League meeting in Stockholm last week, bagged a bronze at the Bad Kostritz Werfertag meeting in Germany.
Walsh's best of 20.75m left him trailing world outdoor champion German David Storl (21.29m) and world indoor champion Ryan Whiting of the US (20.89m). Walsh, sixth in the world, had beaten both in Stockholm.
He competes in the Zurich Diamond League event on Thursday night (NZT), the ISTAF Berlin world challenge next weekend and the Continental Cup.
Glasgow 5000m bronze medallist Zane Robertson took second in the rarely-raced two mile event at Birmingham behind double Olympic champion Mo Farah of Britain yesterday.
Robertson recorded 8min 22.82s, the fifth fastest time by a New Zealander over the distance. Rod Dixon's 8:14.32 is the New Zealand benchmark. Farah's time of 8:07.85, broke the 36-year-old British record for the distance.
New Zealand's Angie Smit, in her second Diamond League appearance, was eighth in the 800m in 2:02.22.