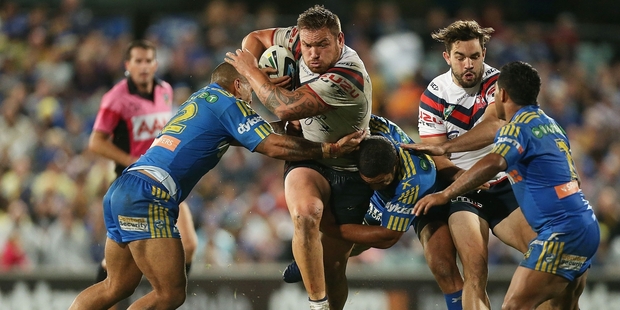 There are no guarantees Roosters prop Jared Waerea-Hargreaves will earn a recall to the Kiwis for the Four Nations in October, despite his impressive NRL form.
Waerea-Hargreaves, who will be a major weapon against the Warriors today, was the shock omission from the Kiwis' Anzac test team in April. Despite already missing many key players through injury, Kiwis coach Stephen Kearney chose to leave out the renowned enforcer, citing "form" and a "focus on the future".
The decision caused a strong reaction at the time, with Waerea-Hargreaves surprised at the lack of communication from the coach.
"I think there should have been a call for sure," the player said at the time. "Obviously I am extremely disappointed, not just at not being selected but after hearing that it has got to do with form and the future plans of the Kiwis ... I am only 25. I'm not really coming to the end of my career."
At the time, Kearney was unrepentant saying, "If I rang every player who has missed out ... my phone bill would be very, very high."
Five months on and it's not certain the relationship has been repaired, as Kearney says he has not spoken to Waerea-Hargreaves "in the last few months".
"I didn't think I had anything to patch up," Kearney said. "In a number of different sports players don't get selected - it happens all the time. We were picking on form and the guys who came in did a great job.
"He has been left out before. Look at the 2012 end-of-season test. We have a lot of depth in that position and, if you look back over all our test matches, that has always been the case."
Statistics backed Kearney up. Waerea-Hargreaves had been New Zealand's least effective forward in his last three matches against Australia, averaging less than 45 running metres and six tackles per game. He was also disappointing in the World Cup semifinal win over England, contributing only nine hitups for 56m.
Since the Anzac test, Waerea-Hargreaves has averaged more than 114 running metres and more than 28 tackles per game for the Roosters.
Hovering in the background is the cultural change Kearney and the NZRL want to achieve with the Kiwis.
There's a determination to rebuild pride in the Kiwis' jersey. Selections are made not just on talent but also on character.
"Jared will go into consideration just like any other player," Kearney said.
"Of course he's in consideration and, if the Roosters go deep into the finals - which I think they will - that will only help his cause. Nothing has changed from what I said [in April]. We are picking on form, with an eye for the future."
That future focus appears to rule out Steve Matai. The Manly centre hasn't represented his country since 2010 and intended playing for Samoa at the last World Cup before injury hit. "We have moved on," Kearney said. "We have Dean [Whare], Shaun [Kenny-Dowall] and guys like Konrad [Hurrell], so Steve won't be considered."
It also seems unlikely Jeremy Smith will return in the near future. The Asada ban rules him out of the Four Nations and, despite his undoubted qualities, time is against the 2012 Kiwis player of the year.
Kearney remains hopeful Thomas Warriors utility Leuluai will be part of the Four Nations campaign, despite his ongoing struggles with a groin injury. The 29-year-old is one of the Kiwis' most valuable players but is understood to be considering a complete off-season break to ensure a strong start to 2015.
"I'm confident he will be available," Kearney said.