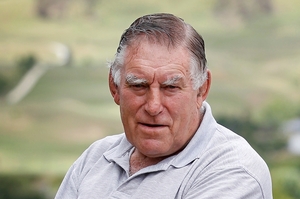 All Blacks heading into tonight's record-attempting match against the Wallabies may be feeling a bit daunted, but advice from rugby great Sir Colin Meads may put them - and their fans - at ease.
The team will be trying to break the record of 17 consecutive test match wins when they take on Australia in Sydney.
Sir Colin is one of the sport's most celebrated players and featured in the squad that first set the record between 1965 and 1969.
He said his team did not focus on the record when they took the field all those decades ago, and tonight's team should do the same.
"I don't think we even really thought about it at the time, it was just another game," he said. "But this is a different occasion, the Australians think they can win and they have spoken about it.
"I think that is good for New Zealand, we will be prepared for them and we have a habit of winning the games we have to win. So ... we are in a good position."
The All Black squad taking the field tonight had some distinct advantages over their foes, he said.
"Their preparation has been good, they have had the same amount of preparation Australia has had and Australia has been led into a false sense of security by the New South Wales Waratahs beating the Crusaders," said Sir Colin, referring to the one point-difference Super Rugby final earlier this month.
"They think it is the same as beating the All Blacks, but it's not."
The last time the All Blacks had a run at beating the record - that was equalled by the Springboks between 1997 and 1998 - was in 2012 when they hit 16, and in 2010 when a last-minute loss ended their streak at 15.
"They are concentrating on winning and all the talk that goes with it, which is a lot more now than what there used to be.
"I'd tell them to go out there and win, it's what it's all about. It's a record-breaking game for both teams."
Sports psychologist - and ex-player with 100 first class games under his belt - Gary Hermansson, agreed.
He said this week that the best sporting performance happened when "the mind and the body are in the present moment responding intuitively to whatever comes up right now".
"When you start getting too concerned about the outcome of an event you mentally shift ahead ... and you get more concerned about how this could turn out and the consequences of that.
"Basically, the mind and the body get out of alignment and anxiety creeps in."