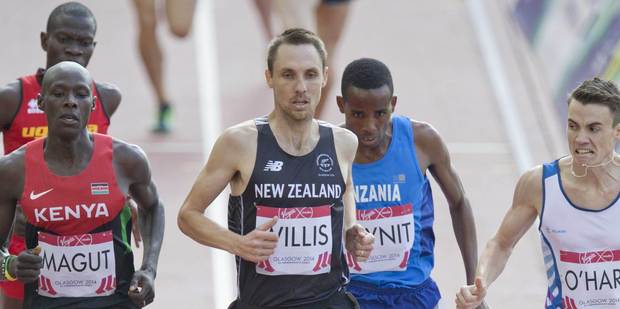 Nick Willis and Julian Matthews will both race in tomorrow's 1500m final but there was no such luck for fellow Kiwi Zane Robertson.
Willis ran a supremely calm and confident heat at Glasgow's Hampden Park this morning, looking in total control of the final lap and crossing at the front of the field despite significantly easing off down the final straight.
Matthews was never quite as comfortable as his compatriot, finishing fifth and outside the automatic qualification berths, but the speed of the heat saw him best Willis' time by half a second.
Robertson, however, struggled to seventh in Willis' heat and will be unable to add to the bronze medal he claimed in the 5000m earlier in the meet.
The responsibility of adding to the New Zealand athletics team's medal tally will instead fall to Willis, a man who will also be looking to boost his personal haul.
Willis won gold in Melbourne and bronze in Delhi over the distance, and the form he displayed in his heat suggested a third medal was a real possibility.
But he will hardly have it his own way. Kenya's Ronald Kwemoi - the only runner with a faster season-best than Willis - won the second heat in fine fashion, while South African Johan Cronje will also be dangerous.
While Willis will be duelling for a place on the podium, Matthews was simply thrilled to reach the gold-medal decider, set for 6.35am NZT.
The 26-year-old has never previously endured nerves like those he experienced since entering the athletes' village 10 days ago, watching his teammates return from their events and waiting an eternity for his own.
"I've been in the village for so long waiting for this race, and all the awesome results happen and [the athletes] all come back and celebrate, then just relax and chill and play pool.
"It was really hard to keep my focus. I'm exhausted from keeping my nerves at bay but I was just so happy to get on the track. This was my first big race for New Zealand and I couldn't be happier with the result."
Matthews has also never enjoyed an atmosphere quite like that produced by the fervent fans inside Scotland's packed national stadium, but he was pleased with how he handled the noise.
"Nothing like this - NCAA in America is pretty big but it's not like this. This is just insane. The crowd is absolutely fantastic - they're so loud and they cheer for everyone. It really gets you going but, it's funny, when you're in the race, you kind of just block it out."
It's fortunate, then, for the callow Matthews that he has the experienced Willis joining him on the startline tomorrow.
He described Willis as "a hero" for his own running career and, given the disparity in resumes, Matthews planned to pass up the opportunity for any cheeky trash talk in the next 24 hours.
"He's got so much on me so I'm not going to get in there. He's a pretty special guy and an amazing New Zealand athlete, having recently broken the New Zealand record again.
"He's in top form and hopefully he can pull off another one - but I'll be there on his heals so he better watch out," he joked.