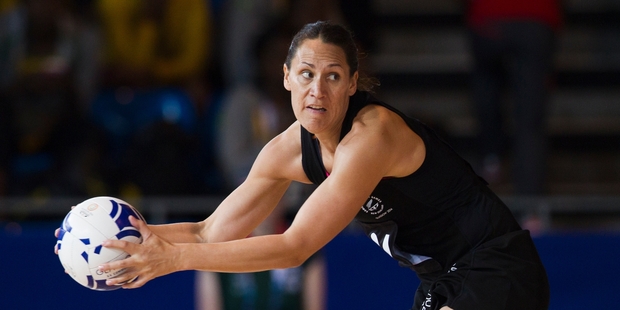 Jodi Brown didn't sleep much on Tuesday night.
She'd just been told she was the starting goal shoot for the Silver Ferns against Jamaica.
First choice shooting pair Cathrine Latu and Maria Tutaia were out with injury. It was a crunch game, even if captain Casey Kopua rather gave it a version of the old "we've got to play them all sometime" line in relation to avoiding facing the Australians in tomorrow's semifinal.
And Brown stood tall, drilling nine from nine shots at goal in the decisive fourth quarter, when the Silver Ferns eased clear for an eight-goal win, 50-42.
Brown helped rookie Ellen Halpenny through a gruelling first full international and earned high praise from her captain - "she was an absolute rock for us; her top two inches is so clever" - and helped ensure the absence of the two senior shooters was not as critical a loss as feared.
"I was really excited but knew we had the game plan to do it," Brown said.
Her personal pleasure was easy to explain.
Apart from the obvious aspect of having been a key figure at an important time, Brown, 33, is at her first Commonwealth Games.
She was forced out the day before the Melbourne Games began in 2006 which was a shattering experience, and missed the 2010 tournament for family reasons. This tournament, and by extension this game, mattered.
"I'm loving this, loving the opportunity to be here in the wider New Zealand team. Being on court is a bonus," Brown said.
Brown and Halpenny had to cope with beanpole Romelda Aiken for the last three quarters in an unfamiliar defensive role.
Brown quipped that she'd played against Aiken a lot, "but not against her at goal keep".
"She's got one of the longest arms I've ever seen. To her credit she probably got more than three feet on her lean.
"She did a really good job but it was about us being more brainy and what other things we could do to combat her lean and rebound position."
At 35-33 up when the final quarter began, Brown remained confident.
"We had been practising hard on critical moments, making sure on every centre pass we scored and anything else was a bonus - and score off any turnover ball. I knew if we could do that we were going to be okay."
She also noticed that Jamaica were vulnerable.
"They got a bit tired towards the end and down the defensive end they were looking to take people out, rather than the ball. We put our foot down and kept going."
Whether Brown is needed to start against England will depend on the recovery rate of Latu and Tutaia.
But she'll be ready if she gets her chance.