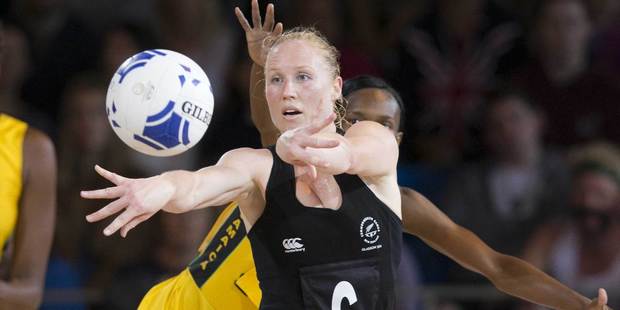 Silver Ferns captain Casey Kopua hopes England will be "scared" after her team pulled off a gritty and smart victory over Jamaica at the Commonwealth Games today.
The odds were in Jamaica's favour once key shooters Cathrine Latu and Maria Tutaia were ruled out by injury.
But a strong fourth quarter did the business for New Zealand as they eased clear from 35-33 to win 50-42 at the SECC arena.
It was a win based on spirit and resolve, and kept New Zealand on track to face world No 1 Australia in what would be a classic showdown, provided they get past a confident England in their semifinal on Saturday.
''We're looking forward to that challenge," Kopua said of England.
''Obviously they're very accurate shooters and have physical D (defence).
So it's just making sure we use our ball work, keep things sharp but keep things simple at the same time."
New Zealand worked overtime keeping tabs on Jamaica's giant goal shoot Jhaniele Fowler-Reid, making her work for advantageous positions, giving up as few 'freebies' as possible. In that, Kopua and Leana de Bruin did a fine job.
With Laura Langman running the middle of the court, stand-in shooters Jodi Brown and rookie Ellen Halpenny toiled against a determined Jamaican defence, and eventually reaped fourth quarter rewards.
By trying to limit the damage tall Romelda Aiken - usually a goal shoot - could do with her reach, in those last 15 minutes, Brown nailed nine from nine shots and that helped pull the Silver Ferns clear.
"We got more belief and confidence as that game went on," Kopua said.
''The likes of Jodi Brown, she was an absolute rock for us, and for Ellen in that shooting circle. Her top two inches is so clever.
''For us on D, it was just having a go at getting that feistiness in there, I guess, but having control at the same time."
How well did Kopua and de Bruin cope with the threat of Southern Steel shooter Fowler-Reid?
Kopua was about to answer when coach Wai Taumaunu stepped in: ''Better than anyone else in the competition."
As for the injured shooters, it is a day by day proposition.
''They're certainly not out, at all. What we know is they're getting better every day, so we never know," Kopua said.
She believed today's win was an ideal lead-in for the semifinals.
''Each day we've got more and more physical and intense, so things are going to get tougher than that and we're ready for it."
Taumaunu had high praise for the ''huge" character of her team today.
''I don't often say I'm proud of them but I'm very proud of them at the moment.
"We were down to nine players two or three days ago (Latu, Tutaia and Halpenny, with an ankle sprain) and that does really make you wonder if you're going to get through, because we were only halfway through.
''So there was a lot of resolve and a lot of digging deep among the group. So in one sense it's been disruptive, but in another sense I think it's really brought us together."