Shot put champion learns some positive lessons from his first trip to the Games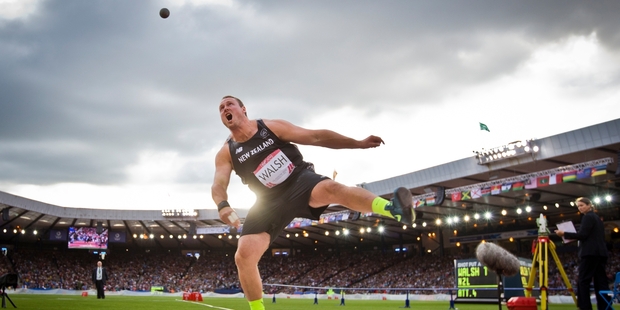 It was hard to reflect on it in a moment of crushing disappointment, but Tom Walsh was able to identify positives out of his first trip to the Commonwealth Games.
His throws en route to the silver medal at Hampden Park give a clue: 20.73m, 20.96m, 20.90m, 21.19m and 20.84m, before fouling on his last as he made a last-ditch bid to catch Jamaica's O'Dayne Richards' gold medal-clinching 21.61m Games record.
Walsh is young for a shot putter - albeit he has three years on compatriot Jacko Gill - but took heart from the consistency of his performance. The only thing lacking was what Canadian bronze medallist Tim Nedow said of Richards' best throw: "He just bombed one."
Walsh needed a bomb and it didn't come.
There was a long pause when he considered what he'd take out of the final.
He got within 7cm of his personal best in Sopot, Poland, this year at the world indoor champs.
"My consistency is awesome, and the more consistent you are the more likely [you are] to throw big, and then I'll be better in big competitions and more relaxed.
"It flows on to the whole confidence thing. The more I throw up around the 21m mark the more confident I'll be."
There are clues dotted through those remarks, and the thought occurred whether events the previous day in qualifying might not have done Walsh any favours.
He set a Games record of 21.24m with his one and only throw.
Walsh spoke after the final about feeling tense and his rhythm being off just a touch.
Walsh was the man to catch in the event. Did he, subconsciously, get thrown off his stride by the burly Richards' big throw? It was 67cm better than his next best on the night.
Whatever, Walsh got advice from Australia coach Scott Martin during the event - "It's pretty much the same advice I always get: work the lower body up and through the circle, then let the rest take care of itself. You learn from these experiences and next time hope you can do better."
He looked a shattered man shortly after the event, and, having taken the lead with his second throw, possibly didn't see Richards coming.
Still, he's had a cracking year, made substantial progress and placed himself among the world's elite. His best work remains in front of him.
And in time he'll reflect that only two New Zealand men have got Games medals in the discipline before him.
He's likely to contest the Stockholm Diamond League on August 21 but he has made it plain that his ambitions lie on a higher level.
"At the end of the day I'm here to throw well at big championships.
"If Diamond Leagues don't fit into what I want to do I won't be there. I won't be chasing them.
"No one cares how you throw at a Diamond League. The worlds in Beijing next year are the big one."
Then Rio, of course, in 2016. If Walsh continues at his recent rate of progress, and can use his disappointment yesterday in the right way, he should be a serious contender.
NZ's Commonwealth Games men's shot put medallists
• Les Mills, silver 1966, bronze 1970
• Courtney Ireland, silver 1994
• Tom Walsh, silver, 2014