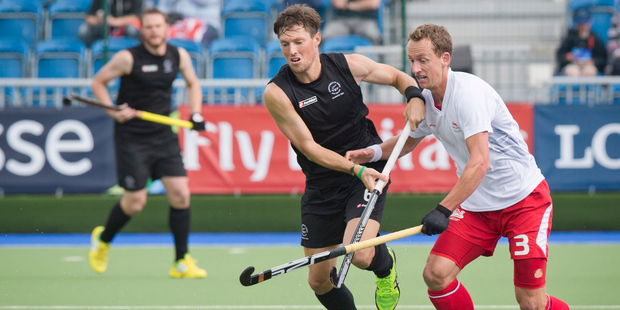 Only one thing could have improved Simon Child's match-winning goal for New Zealand against England today - if it came about a minute and a half later.
Key attacker Child got his chance three minutes from the end, when team mate Andy Hayward's penalty corner shot was blocked and rebounded his way.
Child skilfully volleyed it into the England goal for a 2-1 win loaded with importance for the sixth-ranked Black Sticks.
Providing they beat 13th ranked Malaysia in their final group game on Thursday night (NZT), they will have avoided facing the world's best team, Australia, in the semifinals on Saturday.
In the process they have given themselves the prospect of playing a transtasman test for the gold medal on Sunday.
''It would have been nice (to have scored) with 30 seconds to go," Child quipped.
''There were still a couple of hairy moments at the end.
''That was a huge game for us. We knew before the tournament it was a clutch game and we're really pleased to overcome that hurdle."
It was Child's second goal of the tournament, and kept up a rich vein of form, but the win was built on a solid defensive operation in the first half, during which fifth-ranked England put the heat on the Black Sticks.
Goalkeeper Devon Manchester was in assertive form and captain Dean Couzins marshalled a conscientious defensive effort, making an important block and clearance on the Black Sticks line as England pressed hard in the second half.
Andy Hayward's penalty stroke, awarded when Blair Hilton was pushed in the back, put New Zealand ahead midway through the second half; Adam Dixon had England level with 12 minutes to go before Child's late intervention.
''England are a very good team and we've had some pretty even battles with them in recent years so it was good to poke one in at the end and get one over them," Child said
.
New Zealand's tactic of pushing England's attack wide paid a dividend. Child pointed to the strength of their midfielders working down the centre of the pitch.
''It's much easier to defend there, so credit to the guys for sticking to the game plan for 70 minutes."
New Zealand had talked about the last time they played their third game in a major tournament, when they lost 3-1 to Argentina at the World Cup in The Hague in June.
It was a poor performance and one they were not keen on repeating at the same stage of the Games event.
''We talked about doing well in these crunch games," coach Colin Batch said.
''There's a lot of belief in this group and that'll give us confidence."
New Zealand will ensure their feet are firmly planted for the Malaysian game. They can't afford any slipups after having toiled hard to open a door to the final.
''This team is building and building," Child said.
''I think we'll get to the gold medal match, but we're not looking any further than the next game. We'll make sure we don't get stuck in the clouds."