Sacrifices made by twin brothers who moved to Kenyan village to train rewarded with 5000m bronze.
If Zane Robertson did decide to hit the disco in celebration of his surprise bronze, he wouldn't have required a change in footwear. The latest Kiwi to win a Commonwealth Games medal while wearing the famous black singlet added a bit of colour to his ensemble as he tore around the track inside Hampden Park, Scotland's national stadium, yesterday.
The bright blur was difficult to distinguish as Robertson raced his way to third in the men's 5000m - the pace he and twin brother Jake helped to set from the start made sure of that - but the more leisurely victory lap, draped in a New Zealand flag, revealed all.
Gallery: Commonwealth Games - Day 3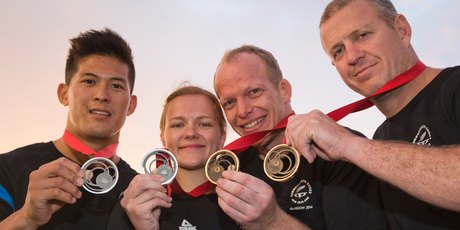 On his right foot, the shoe was sky blue, the same colour of the shirts and dresses wore by the Scottish team as they entered the opening ceremony last week. On the left, the boot was lime green, appearing akin to something out of Usain Bolt's wardrobe.
The footwear would hardly be out of place in one of the bustling bars in Glasgow central, swollen with Games traffic for the last several days. But Robertson - a well-spoken and, when not winning medals, rather reserved 24-year-old - is unfamiliar with that kind of environment. He's more at home in the Kenyan town of Iten, population 42,000, where he and Jake moved from Hamilton on their own at just 17, taking with them little but dreams of winning medals while wearing the silver fern.
That aversion to such an animated social scene meant Robertson planned to celebrate the "best day of his life" in more low-key fashion.
"Tonight I can party up, no problem. I've been sleeping the last 48 hours anyway," he said. "But I won't go to the disco or the club. I'll probably be in the mess hall for a while."
Even if they're not treated with a trip to a Glaswegian club, those fluorescent shoes will get at least one more outing, when Robertson runs in the heats for the 1500m on Saturday morning. If, that is, they hold up to the strenuous training sessions that will resume as soon as the party ends.
"It was just a Nike design from I'm not sure what year. I'm still without a contract but I'm waiting on that - I think this will help," he joked. "I've actually got some holes in the shoes - they're getting a little bit old."
Those shoes, those worn and torn and medal-winning shoes, reflect where Robertson has come from.
"Nowhere," was probably the consensus among Kiwi fans quizzed after his feats in Glasgow. The men's 5000m was supposed to be about Nick Willis chasing the 1500-5000 double with which he's been toying.
The other two in black, skinny as whippets and, fortunately for commentators, easily distinguishable due to contrasting hairstyles, were supporting players in the New Zealand narrative. That's not to say they were without intrigue, though.
In fact, the twins' story has long been fascinating, if not the most accessible. They were absent from the track and field team's pre-Games training camp in Cardiff. And forget about them being available to the media last week as Kiwi athletes were trotted into press conferences.
The low-profile approach was far from a surprise. After all, if a Kiwi athlete is looking to avoid the limelight, there are few places in the world more effective than Kenya. But that was never a determining factor when the twins made their big move.
There was only one motivation, one that came firmly into focus on a grey Glasgow afternoon.
"This is what [Jake and I] dreamed of," Robertson said. "We'd go to bed and we'd dream of this. That's why we wake up so early to work hard.
"Dreams are only achieved with a plan - it becomes more of a goal. Just to have this success today, it's just the happiest day of my life."
There have been some hard days in the latter part of that life. Seven years without seeing his parents, sleeping rough in a small room shared with his brother - a lot of athletes talk about sacrifices but it would be hard to find many as singularly determined as the Robertsons.
"I've worked seven hard years and in the early years in Africa I sacrificed a lot. I don't see it that way anymore. I'm living the dream, travelling the world and having absolute fun living my life. Today, all those sacrifices I doubted originally, they've paid off."
The precise reasons the Robertsons opted to make those sacrifices could be gleaned from one glance at the scoreboard following the 5000m race. Kenyans in first, second and fourth.
"[Caleb] Ndiku, the winner, he's probably the best in the world this year, and he's a close friend of mine from training back in Iten," Robertson said.
"Right now he's the Dennis Rodman of track and field. He dyed his hair red at the world indoors and today it's gold."
Robertson's got a style of his own. It may be unconventional but, with brother Jake, it could see him in line to climb a few more podiums in years to come.