Sprinter Webster star turn as Kiwi squad 'ticking all the boxes' for 2016 campaign.
They couldn't have scripted it any better; gold and silver to round off a marvellous week of track riding.
Now New Zealand's track cycling troupe can look forward with relish towards next year's world championships, then the Rio Olympics in 2016 knowing they are squarely on target for a top-class campaign.
Yes, formidable nations such as Germany would be expected to steal some thunder from Australia and New Zealand but these are good times for the track programme.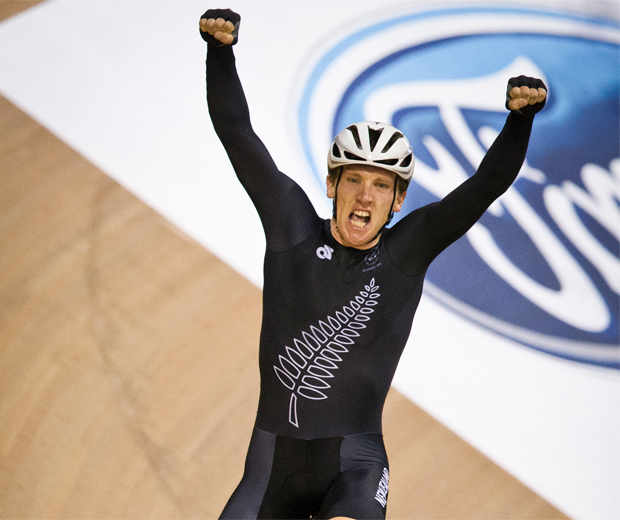 Shane Archbold celebrates gold in the 20km scratch race. Photo / Greg Bowker
"I'm very happy with how the week's gone," sprinter Sam Webster said yesterday. "Halfway to Rio and we're ticking all the boxes."
The riders all tout the squad ethic but the Auckland 22-year-old was perhaps the star turn. Two gold medals, in the individual and team sprints, and a silver in the keirin was a fine return.
Taking a holistic view, Webster pointed out the satisfaction taken from a strong ending by the endurance riders, with victories in the points and scratch races for Tom Scully and Shane Archbold.
Watch: Glasgow: Gold for Archbold
"It was awesome to have Shane and Tom come out and take those bunch events in such a dominant fashion.
"I went to my first world junior champs with Tom; I've been to multiple world champs with Shane. The sprint group has been together five years; most of the girls have been there for four, so it's a group of people who have been working their way through for quite a long time."
Speak to any of the riders and they'll sing the praises of the centralisation programme, which has them based in Cambridge, rather than coming in from all points as used to be the case. As Webster put it, the riders were making significant progress before the Cambridge shift - "then we've had another awesome lift from that".
Archbold rated these Games a tougher challenge than Delhi, when New Zealand won nine medals and England were absent on security grounds.
"Even if we'd only won nine here this would still be more successful than Delhi. We've always got medals here and there, but this is about hard work. It's been a long time coming," the Timaru rider said.
Archbold, who shaved his trademark mullet off for charity a while back, was chuffed with his win, after a series of solid results on the international circuit.
"It's pretty numbing to finally pull one off, and hearing the national anthem was great."
Webster had no quibble with the outcome of the keirin final. Australian Matt Glaetzer pipped him for gold and although the idea of equalling Gary Anderson's three golds in Auckland 24 years ago spun his wheels, Webster knew he'd been beaten by a better rider in the moment. Anyway, his return didn't leave much room for disappointment.
There was also a result which almost slipped by yesterday. American-based rider Rushlee Buchanan finished a creditable fifth in the women's 25km points race.
The field had quality in it, but Buchanan did well. The women's programme has been hosed down in recent times, which is not to say there isn't a desire to get it up to speed before Rio.
The road racing in Glasgow starts on Thursday night with the individual time trials.