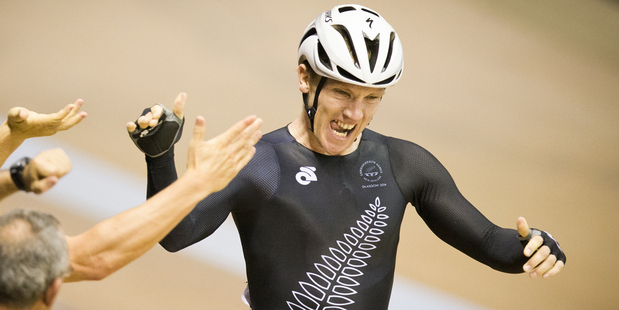 The stats tell the story of New Zealand's remarkable performance at the Commonwealth Games track cycling meeting, which ended this morning.
Eleven medals, including four gold, represents New Zealand's best Games return, exceeding the nine of Auckland in 1990 and New Delhi four years ago.
Spare a thought, too, for head coach Dayle Cheatley, who oversaw a campaign which eclipsed the effort of his father Ron when he was in charge of the 1990 programme.
There was a strong sense of self belief running through the track squad even before the first rider wheeled onto the Chris Hoy velodrome.
The argument was that the times had been put up. This is a sport where you can't fake performances, and you certainly can't hide.
The numbers don't lie, and New Zealand arrived in Glasgow with a sense of certainty that they knew their capabilities.
It was just a case of delivering.
Eleven riders finished up with medals around the necks.
And if the star turn was sprinter Sam Webster, who walked away with golds in the team and individual sprint and a silver in the meeting-ending keirin, there was plenty of satisfaction in the performances of both Matt Archibald and Shane Archbold.
Archibald, akin to the fifth Beatle in a five-strong sprint squad - marked down as the reserve, who did the donkey work to help the other, younger riders - produced a Commonwealth Games record ride in the kilo time trial. It lasted about 20 minutes, but that's not the point.
He has marked himself as a rider capable of challenging the hegemony of the young guns, who have won world and Commonwealth crowns within six months.
Archbold, with a reputation as a solid performer and regular placegetter around the international circuit, had his time on centre stage in the scratch race today.
As he vigorously, and repeatedly, punched the air in delight, it seemed to have extra vim, and a feeling of superb accomplishment.
It's hard to fault the collective return, although there was a hint of disappointment that the team pursuit did not do better than bronze.
London Olympic keirin bronze medallist van Velthooven not even making the semifinal raised the odd eyebrow too, although his year has been marred by injury issues.
Still, they are minor quibbles in the overall picture.
Rio and the 2016 Olympics beckon.
As Webster said today "we're halfway there and we've ticked all the boxes".
Not a bad place to be in, then, with the firm expectation that for this mostly youthful group reaching for the stars, their best lies ahead.
New Zealand's performance on the track at the Commonwealth Games
Gold
Sam Webster, individual sprint
Team sprint, Ethan Mitchell, Sam Webster, Eddie Dawkins
Shane Archbold, scratch race
Tom Scully, points race
Silver
Simon van Velthooven, kilo time trial
Webster, keirin
Bronze
Aaron Gate, points race
Eddie Dawkins, individual sprint
Matt Archibald, kilo time trial
Marc Ryan, 4000m individual pursuit
Team pursuit, Marc Ryan, Shane Archbold, Pieter Bulling, Dylan Kennett