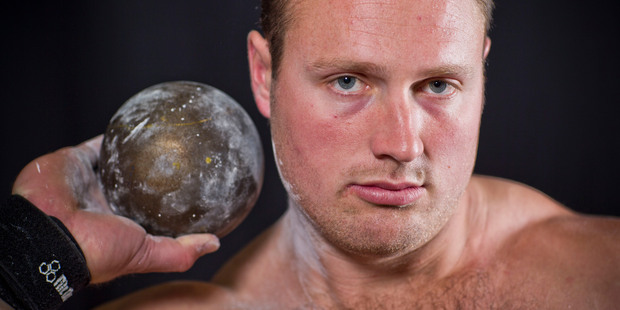 It took Tom Walsh only one throw to break the Commonwealth Games record and cement his favouritism in the shot put.
Walsh today left his sizeable mark on the qualifying rounds of the event at Hampden Park, unleashing 21.24m on his first throw to comfortably reach tomorrow morning's (NZT) final, where he will be joined by compatriot Jacko Gill.
No other athlete was within a metre of Walsh and the throw fell only two centimetres short of his personal best, set indoors earlier this year.
Today's was the greatest distance he has achieved outside and Walsh will now be odds on to join Valerie Adams in making it a golden double in the shot put. Kiwi fans hoping for a showdown between the two young guns of the sport may be left disappointed, though, with Gill appearing some way behind his rival.
The 19-year-old progressed to the final in fifth overall after recording 19.54m with his opening effort, before two non-throws saw him fall short of the automatic qualification mark.
He, of course, has age on his side and, in combination with the 22-year-old Walsh, the future of shot put looks bright even after Adams eventually decides to end her transcendent reign.
But the big picture was far from Walsh's mind after his impressive opening salvo, supremely satisfied with his efforts but taking nothing for granted ahead of tomorrow's medal event.
"I'm pretty happy, obviously," he said. "I just wanted to come out here and throw as far as I could in the first round. I managed to do that and it came off the hand pretty well.
"But tomorrow's a different day completely. I could come in and throw 20.50."
Though the point about complacency is valid, it's also worth noting that hypothetical throw would still give him gold based on today's proceedings, such was his dominance.
The distance comes a fortnight after he managed 21.23m in the Glasgow leg of the Diamond League, demonstrating the type of form that suggests today was no fluke.
"I'm in pretty good nick, there's no doubt about that," he said. "I'm throwing really well at the moment, so I'm happy with that and hopefully I can push it out a bit further tomorrow.
"I'll just try to do the same thing - focus on the processes and not worry about the outcome, because as soon as you start worrying about the outcome, it's not good."
The ideal outcome for New Zealand would see Gill also grab a podium place and join the man he was pleased, for once, to be able to call his teammate. The teenager seemed a little overawed moments after exiting Scotland's packed national stadium, but he was pleased with both his performance and that of Walsh.
"It's awesome to qualify and it's such a strong field," he said. "I'm really happy to make it into the final.
"I was so happy for [Walsh] - it's really cool. It's like the first time we've been teammates, so I'm really happy for him and it's great to see the level of shot-putting in New Zealand is just amazing."
Walsh warmed up for the event with a "good throw" in the Cook Islands, which, when considering the crowd and the cool, grey Glasgow day, couldn't be much further from his current surroundings.
"I think in shot put you can use the adrenaline positively," he said. "It's a bonus having a big crowd.
"The atmosphere is amazing, so I hope to do a really good throw tomorrow."
Meanwhile, Julia Ratcliffe qualified in women's hammer throw in second spot. Ratcliffe threw a distance of 67.96m, which was just shy of the top qualifying distance of 68.92m, which was thrown by Canada's Sultana Frizell.