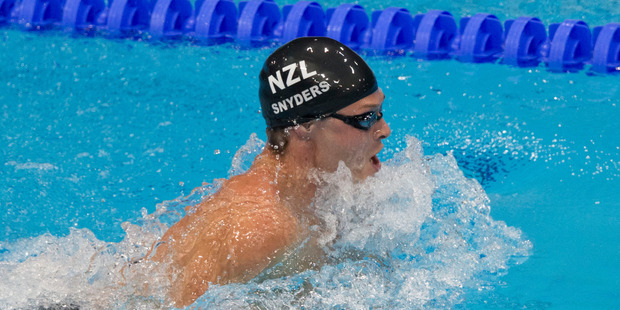 New Zealand's swimmers were unable to claim a medal at the Commonwealth Games this morning.
The first opportunity came in the final of the 100m breaststroke.
Glenn Snyders, swimming in lane 6, started the race well. He was second at the turn, but faded in the final 50m to finish in fifth position.
England's Adam Peaty won gold, upsetting South Africa's Cameron van der Burgh, who finished second. Scotland's Ross Murdoch took bronze.
The next opportunity for a medal came in the women's 4 x 200 freestyle final. The New Zealand quartet consisted of Lauren Boyle, Samantha Lucie-Smith, Samantha Lee and Emma Robinson.
Boyle swam the first leg, and at the change the Kiwis were looking steady in third position. Lucie-Smith maintained the third spot in the second leg, but as the race progressed, Australia, Canada and England held onto the front-running positions.
The race ended in a comfortable win for the Australian quartet, with Canada and England taking silver and bronze respectively.