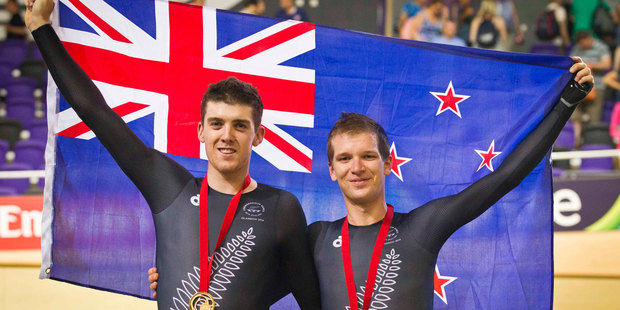 New Zealand track riders enjoyed a bountiful night at the Sir Chris Hoy velodrome.
They have won four medals, including one gold to Tom Scully in the 40km points race, to boost cycling's tally to nine, with one more finals session plus the road programme to come.
Scully's win, supplemented by Aaron Gate's bronze, was reward for a fine team performance, in which the third man, Shane Archbold, earned significant praise from his two countrymen.
An hour earlier, Simon van Velthooven and Matt Archibald hovered up silver and bronze medals - both breaking the old Commonwealth Games record in the process - in the kilo time trial.
Defending champion Scott Sunderland won the gold, eclipsing the times of the two New Zealanders.
But it was a rare old day for New Zealand sport, and cycling in particular, to savour.
Scully bagged 11 points on three of the first four of 16 sprints and finished with 98 points, 14 clear of Isle of Man rider Peter Kennaugh, while Gate took bronze with 82 points.
''It feels pretty bloody good," Scully said.
''It was awesome out there. There were three (New Zealand) guys who could have won the race and to have the other two, who are good mates off the bike and on it, there racing alongside me was pretty special.
''We knew what each other was going to do and react. The support I had from them was awesome."
Timaru's Archbold finished in ninth place, with 14 points, but a pile of verbal back slaps from Southlander Scully and Aucklander Gate.
''We knew it was going to be a race of points but also laps, with the class of riders in the field," Gate said.
It was a case of trying to get early points but also not letting any riders get away off the front of the bunch."
Gate had to battle a touch of cramp after about 40 of the 160 laps but worked his way through it.
He missed a place in the pursuit team earlier in the meeting after crashing several days before the Games began and admitted although he could have raced he was not quite right.
So this helped make up for that disappointment.
Parents Murray and Annette were in the stands and he was chuffed he had a chance to achieve something, partly to give them some pleasure after making the journey to Glasgow.
The 24-year-old Scully has racked up World Cup successes and road victories. He wants to pursue both forms of riding.
''It's decision time at the end of the year and contract time with the road teams coming up. There are meetings with the high performance squad for the track programme.
''I'm looking forward to those and working out what's best for me in the future.
''It's pretty awesome riding for your country on the track, but I've still got to have a day job as well."