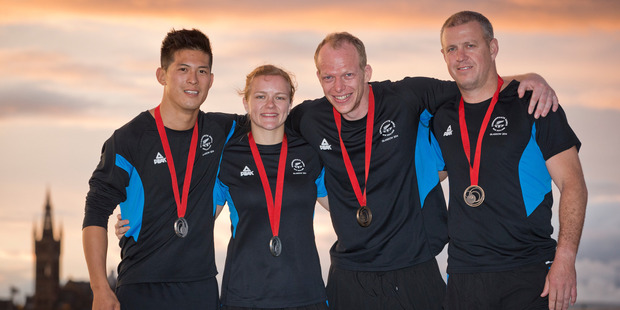 New Zealand's streak of judo success continued this morning (NZT), securing two bronze medals to bring to five the haul from Glasgow.
While track cycling is clearly this country's happiest hunting ground in the opening weekend of the 20th Commonwealth Games, judo has emerged as a surprise second.
A bronze on the opening day for Darcina Manuel was surpassed yesterday with silvers to Adrian Leat and Moria de Villiers, before Tim Slyfield and Jason Kosta followed in their teammates' footsteps today.
With the programme concluding today, the haul would have more than met coach Robert Levy's expectations, with a further two team members finishing fourth. The results equal the return from the Auckland Games in 1990 and means New Zealand have now won 11 medals from the three Games in which judo has featured.
"Darcina started it and then [Leat] was in the best form I've ever seen him in, and Moria's just a solid, strong judo player," said Slyfield.
"We've got some bloody good players."
For Slyfield, who defeated Indian Sahil Pathania with an ippon, bronze represented reward for a long journey to the Games.
Twelve years after claiming bronze at the Manchester Games, the 39-year-old has been through a retirement, a change in weight class and juggles his duties as Judo New Zealand's high performance manager, meaning a medal was a fitting culmination to a long career.
"The last three years have been pretty tough," he said. "I've had injuries - that's what happens when you get a bit older - and I've absolutely [had second thoughts]. Everything just hurts a bit more."
Slyfield shared the third step on the podium with compatriot Jason Koster, who also took bronze in the under-100kg weight class after outlasting Dider Duke of Australia.
Like Leat - who overcame losing his brother to win silver - Koster has endured his fair share of personal anguish, using it as fuel for his fire.
"This tournament was always for my family and friends," he said "We've lost a few people in the judo community over the last six to 12 months.
"At my club, I lost one of my best friends, Johnny, who unfortunately took his own life in November. Prior to that we lost a young 15-year-old to cancer.
"The fact that there's people back home wanting us to do our best to just give them a glimmer of something, it means a lot to be able to come out here and do that.
In the 90kg weight class, Ryan Dill-Russell went down against Englishman Gary Hall, being forced to tap out after having his arm caught.
Dill-Russell was ranked No 1 in the Commonwealth coming into the competition - although the team acknowledged those rankings were skewed - but injuries prevented him from living up to that billing.
Sam Rosser, in the over-100kg class, lost to Mark Shaw of Wales, being pinned after initially holding his own. He was left disappointed with his own efforts but more than satisfied with the performance of the team
"I was happy with the way I was fighting earlier in the day but in that fight I don't think I fought as well as I could have or should have, which is always disappointing," he said.

"But we're definitely happy with [the haul] and what the guys have done."