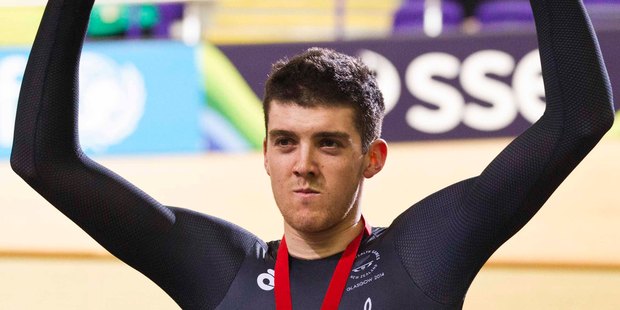 A quick bite of the best of the action from day three at the Glasgow Commonwealth Games.
Kiwi track cyclists Simon van Velthooven and Matthew Archibald took silver and bronze respectively in the men's 1000m time trial in Glasgow this morning at the Sir Chris Hoy Veledrome.
Archibald set a new Commonwealth Games record time of 1 minute and 01.162 seconds in his ride. That was surpassed, however, in the final pair race between van Velthooven and Australian Scott Sunderland.
Both riders bettered Archibald's time, but it was the Australian who won gold with a Games record of 1.00.675.
View: Top pics: Commonwealth Games - Day 3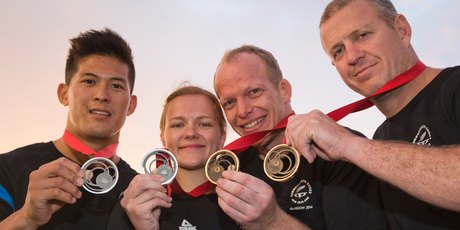 More trouble for triathletes
It was rather appropriate that, moments after New Zealand crossed the finish line in the team relay, the heavens opened at Strathclyde Park and soaked the Kiwis (as well as the waiting press pack). Triathlon has been a sport to forget at these Games, with all six New Zealand athletes missing out on the medals in the individual races before combining for fifth as a team. It is the first time this country will return from the Commonwealth Games without a triathlon medal.
Read:
• Medal table
• Kiwis in action
Sevens given scare
New Zealand were expected to waltz through pool play at Ibrox Stadium, and it looked like that would be the case after an opening-game 39-0 romp over Canada. But the four-time champions were given a real fright in their second match against Scotland, defending their line as the clock counted down for a 17-14 victory.
Where did that result come from? Well, the Kiwis were reduced to five men in the final moments, with two players sent to the sin bin, while the Scottish side have been boosted by several internationals. New Zealand's final group game is against Barbados at 7.20am (NZT).
The true superstar of these Games has arrived and Usain Bolt's first press conference, at a packed main media centre in Glasgow, descended into farce. Penetrating questions included: "Do you still want to play for Manchester United?" and "Do you own a kilt?".
Bolt was also quizzed on his views of Scottish independence and the situation in Gaza while, sickeningly for journalism everywhere, an Australian television 'reporter' even asked for - and was granted - a selfie with the sprinter.
The opening bell
Boxer Chad Milnes, the first New Zealander in the ring, won his opening bout against Bangladesh's Sura Chakma in the 60kg lightweight class on a unanimous points decision. He'll fight the superbly-named Lazarus Shaningwa of Namibia in the round of 32.
In the 75kg middleweight division, fellow Kiwi Eric Finau was another unanimous victor over Sosefo Falekaono of Tonga, setting up a clash with South African Siphiwe Lusizi.
Bronze for judo duo
Track cycling is far and away the success story from the opening weekend of the Games but close second comes from an unlikely source. New Zealand had four athletes in bronze medal fights this morning and two - Tim Slyfield and Jason Koster - emerged triumphant. With the judo programme concluding today, the 10-strong team will return to New Zealand with five medals - two silver and three bronze. They also win the award for being some of the nicest, most humble athletes to talk to.
New Zealand has yet to break its duck in the pool. Glenn Synders finished fifth in the 100m breaststroke final, while the women's 4 x 200 freestyle relay team finished their final in fourth spot.