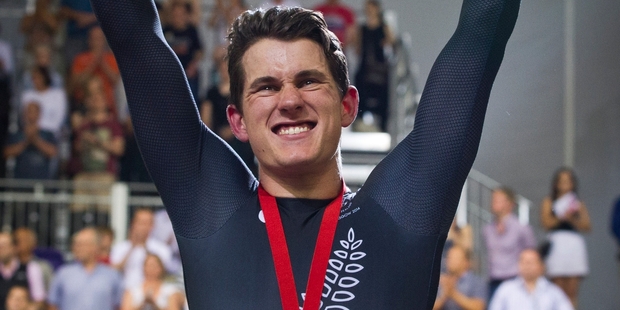 New Zealand's burgeoning sprint cycling programme received another emphatic tick at the Chris Hoy velodrome yesterday.
Whatever Anthony Peden and co are up to at the flash Avantidrome in Cambridge is clearly working.
Sam Webster and Eddie Dawkins, with their gold and bronze finishes in the individual sprint, reinforced New Zealand's pre-eminence in Commonwealth sprinting.
The mates from the gold medal-winning team sprint squared off in a semifinal, aware there were no ploys they could utilise, as they might against a rider from another country.
Webster prevailed, showing sizzling pace on the penultimate run down the home straight to win the best-of-three series 2-0, then edged past Olympic champion Jason Kenny for his second gold in 24 hours.
"I knew I'd get Big Ed in the semi," Webster said. "Team-mates are the hardest races."
They chatted between races but kept some distance. After all, there wasn't much to say at that most tense of times.
As Dawkins put it: "It's hard to chat when you're racing each other but we still say, 'hi'. When you go up to the line, though, it's all business."
And yesterday it was Webster who called the shots.
"For five years we've spent a stupid amount of time together," Webster said of the relationship which, with Ethan Mitchell, has produced world and Commonwealth team sprint golds inside five months.
"You've got to poke and prod where it hurts when you're racing each other. We lie at opposite ends of the spectrum with our styles. I knew it would be a humdinger."
A former world junior champion, Webster produced a series of sizzling rides yesterday. The most spectacular was his first race with Dawkins.
He went high on the bend heading into the home straight for the penultimate time and flew down and past Dawkins in a blink.
It was classy riding and, over the series with both Dawkins and Kenny, Webster displayed a range of skills and high tactical acumen to handle a range of situations.
Kenny, a three-time Olympic champion, said a stomach cramp had hurt his chances against Webster. He claimed to have thrown up several times during the day.
"I'm shattered," he said shortly after the final. "I feel terrible."
Kenny said he'd felt lethargic in the first race of the decider.
"He just steamrolled me with a lap to go and there was nothing I could do about it."
That shouldn't diminish Webster's performance which begged the question, what more does he have in store leading up to the Rio Olympics and beyond?
Matt Archibald finished sixth overall, capping off a fine collective effort in the event for New Zealand, and Marc Ryan collected bronze in the 4000m individual pursuit.
It might have seemed an awkward situation for head sprint coach Anthony Peden, but he kept an even-handed approach during racing.
Peden, a former national sprint rider, was appointed last October to replace Justin Grace, who is now working with France. One of the key planks in Peden's strategy is togetherness and belief in each other and the programme.
"We're very open," Peden said. "There's no one on this team bigger than anyone else.
"It's the culture I wanted to implement when I came on board. They've bought into it and there's a very happy synergy.
"There are no favourites. We're all in this together. They know it's black and white and are happy with it."
And that is showing through in Glasgow.
Triumph over tragedy: Silver medallist dedicates win to dead brother, p1