A silver medal is scant consolation for the loss he suffered but Adrian Leat just hopes he made his brother happy.
The Kiwi judoka began his Commonwealth Games campaign with his older brother but, after Alister took his life earlier this year, Leat was left chasing his dream in honour of his sibling.
A silver in Glasgow yesterday saw that dream partly realised and, more importantly, saw Leat dedicate the medal to a brother he described as his inspiration.
"We both started this campaign together, two years ago, and we both started judo early, at six and eight," he said. "So to lose him just a few months ago was more than I could handle and I was very close to giving up this sport, giving up this dream.
"But with a few strong people around me, and with my parents and my family, I got back on track. I'm here today and I've got a great result, so I've got to be happy with that. I hope he's up there smiling as well."
Leat lost his brother in February while the pair, along with fellow Kiwi Ryan Dill-Russell, competed for Commonwealth Games qualification in Sofia, Bulgaria. The 26-year-old said there had been some difficult moments in the months since but, conversely, the memory of Alister kept him striving towards his goal in Glasgow.
"I've had some really, really tough times, especially having to be overseas by myself, or just with a teammate or two, being away from home and friends and, especially, my parents.
"But when the going gets tough, all I have to do is think about him, and I've got that extra one per cent where I can push through. That's easy motivation for me."
As well as keeping him in his thoughts throughout the event, Leat competed with a more material memory of his brother - a tattoo that, when translated from latin, read, 'This is one of only two brothers'.
"This was definitely dedicated to him and I definitely had it in mind the whole day," he said. "I had a few emotional moments, especially during warm-up, when I thought about him, but you've got to try block that out and really focus on what you're doing up there.
"At my last competition, I thought about him a bit too much and I think that really ruined my performance on the day. It's just about controlling those emotions so you can perform to the best of your abilities."
A composed Leat managed to do just that during his gold-medal match against Englishman Danny Williams in the 73kg class. Although he fell behind to an early waza-ari, the Kiwi hung tough against his more accomplished opponent but never managed to battle back from the deficit.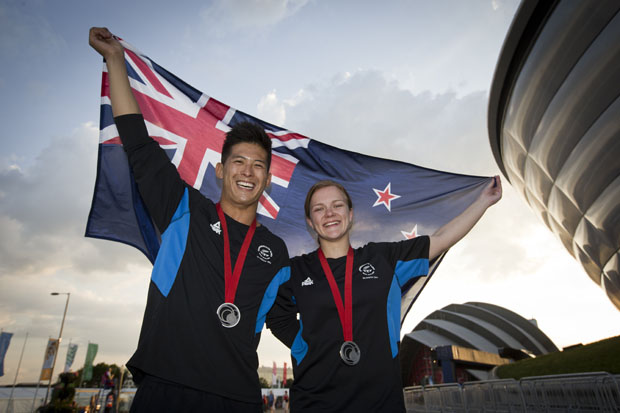 New Zealand Judo representatives Adrian Leat and Moira de Villiers with their Silver Medals outside SSE Hydo. Photo / New Zealand Herald / Greg Bowker
Although the story-book ending failed to materialise, Leat knows he can move forward from these Games and continue to make his big brother proud.
"You're always going to be disappointed not to get that gold but, once I have a bit of down time, it'll really sink in. A silver medal's still a great achievement."
Where to get help
* Youth services: (06) 3555-906
* Youthline: 0800 376-633
* Kidsline: 0800 543-754 (4pm to 6pm weekdays)
* Whatsup: 0800 942-8787 (noon to midnight)
* Depression helpline: 0800 111-757 (24-hour service)
* Rainbow Youth: (09) 376-4155