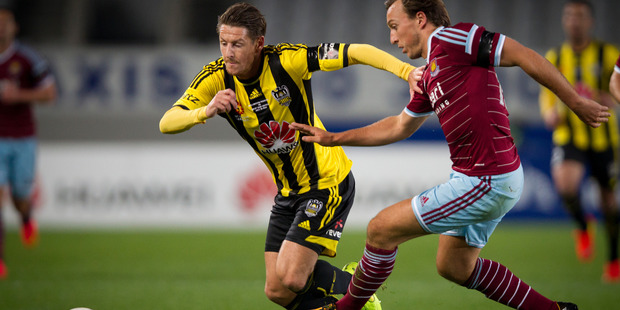 West Ham United manager Sam Allardyce says he always expected a spirited challenge from the Wellington Phoenix during their trip to New Zealand.
The English Premier League outfit have arrived in Wellington ahead of Saturday's friendly match against Sydney FC at Westpac Stadium, fresh off being upset 2-1 by the Phoenix in Auckland last night.
Goals through Andrew Durante and new signing Alex Rodriguez provided the Phoenix with a night to remember before they meet more EPL opposition in the form of Newcastle United in the second leg of Saturday's doubleheader in Wellington.
Allardyce said he was impressed with the Phoenix and praised Ernie Merrick's side for giving his men a stiff pre-season test.
"I think it's like every game we play against a team that doesn't compete at our level in the Premier League that they come and they play their best and they try their best and they try extremely hard," Allardyce said.
"That's what normally happens when the big boys come in to town and we are the big boys. We didn't live up to that unfortunately in the early stages but, like I sad, it's pre-season for us, so it's not a big concern for me."
Allardyce said he had been delighted to see the support West Ham had received despite being so far away from home.
"I didn't think there'd be so many West Ham fans, not this far away, but they're everywhere again," the veteran manager said.
"They were in and around the bars, in and around our hotel, in and around the airport today flying with us and they've been everywhere. Lots and lots have flown from Australia to come watch us and it just shows the support West Ham have across the world."
Meanwhile, 27,500 tickets have been sold for Saturday's doubleheader but the Phoenix are urging fans to snap up the remaining tickets to ensure Westpac Stadium sells out.
"This has been an ambitious plan to bring international football to New Zealand and we want to do it again, but it will be very difficult unless we get another four to five thousand people to the event this weekend," Phoenix general manager David Dome said.
"Wellington is the capital of football in this country and we know we can fill a stadium because the city is passionate about the game and their team."
West Ham's match with Sydney starts at 2pm before the Phoenix meet Newcastle at 4.30pm.
"We have done something remarkable here. We've created history. Very rarely do two English Premier teams play in separate games on the same day at the same venue," Dome said.
- APNZ