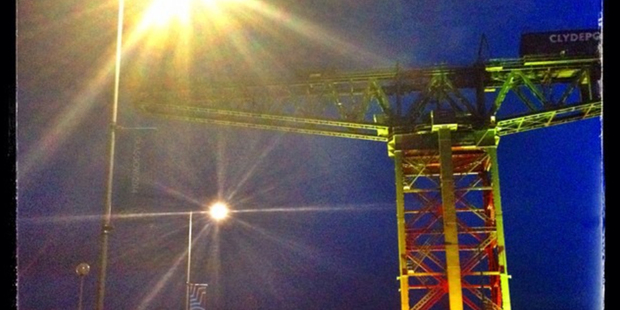 When the Commonwealth Games begin today, the pursuit of sporting excellence will be top of the agenda.
And yet, there is a giant elephant - and not exactly shyly hiding in the corner of the room either - hovering over the games, at least in the eyes of its hosts.
On September 18, Scottish people will take part in a one-question referendum: "Should Scotland be an independent country?" Six words which, depending on the outcome, could re-shape the future of Britain.
Whichever option has the most votes will win the referendum, regardless of how many vote.
There is a strongly contestable view of whether the Games should be linked with the referendum.
Let's assume the event is a roaring success, both on and off the field for the hosts.
Imagine how that would bolster the self-esteem of the nation. Your country has had a cracking time of it, feelgood is thick in the air.
Now extrapolate. How much would that do to sway the fence sitters, in the sense of the country having proved its capability to stand alone and oversee a winning event.
Or, should the Games be totally left out of the equation and be of little bearing on the vote?
The bullish First Minister of Scotland, Alex Salmond, has insisted the Games will have an impact reverberating around the country "for generations to come".
The expectation is that those leading the pro and con arguments over independence will tread lightly while competition is on, not wanting to be seen to be blatantly chasing political capital out of the Games.
Then again, ever seen a politician reluctant to sit out a chance to spruik his case with a captive audience?
One senior Liberal Democrat put it this way: "I don't think people, while they're really enjoying watching the sport, particularly want to have that debate thrust in their face."
However Salmond has form for grabbing any opportunity. He was slammed for holding a saltire aloft in the Royal Box when Andy Murray won Wimbledon last year.
Murray, cyclist Chris Hoy and rower Katherine Grainger, all proud Scots, were important parts of the British team during the London Olympics two years ago.
"It was a reminder that we have got two identities," Scottish Secretary Alistair Carmichael said. "For most of us who are not nationalists, we were quite happy having at least two identities."
Sport and politics don't mix. Don't you believe it.