Track cyclists burning with belief they can continue world champs-winning ways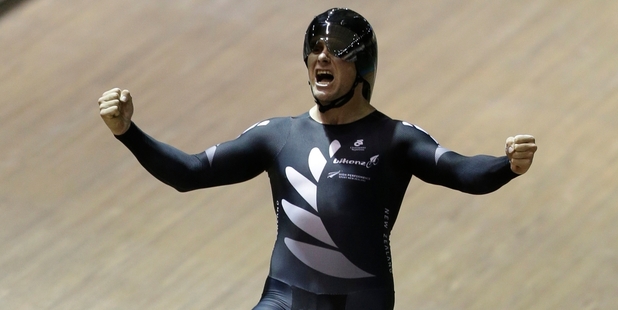 New Zealand's crack team sprint trio aren't contemplating anything other than victory on the opening night of the track cycling programme early tomorrow (NZT).
It says something for their strength of purpose that their minds are utterly locked in on one thing. Defeat is damn near inconceivable.
It comes at least partly from winning the world title in Colombia this year but also from a track programme in which the pursuit of excellence is espoused as the only aspiration.
Aucklanders Ethan Mitchell, Sam Webster and burly Southlander Eddie Dawkins - who will ride in that order tomorrow - have been together for the last three world champs, each time moving one step up the rung in crossing the line.
Colombia produced a feeling they don't want to lose.
"We are going out to win gold, there's no hiding that at all," Mitchell said.
"We don't really think about anything but the gold. Each training session is about striving for that."
Should what they would call the unthinkable happen - remember the invariably competitive Australians are no slouches - so be it.
"If we get beaten by a better team on the day, that's sport," Mitchell said.
"There's a lot of athletes get beaten on the day and you deal with that however you have to."
It's fair to say, however, they haven't dwelt much on that scenario.
These are big Games for the track riders. High performance coach Mark Elliott has left them in no doubt that they are expected to win medals.
It's likely many will. New Zealand won nine at New Delhi four years ago and this is a programme which has delivered high quality for some time now. The days of turning up to compete are gathering dust.
Mitchell was in New Delhi as one of two 18-year-olds in the group, Webster being the other. They have come a long way.
While it would be easy to envisage the Colombian victory giving them a massive jolt of self-belief, Mitchell suggested the previous year, when they qualified top but were pipped by the Germans, as being just as critical.
"That gave us a little bit of a wake up call, that actually we were quite competitive rather than just going along to compete. Now there's definitely more self-belief going into races."
Their buildup has been solid; all the boxes have been ticked. There's nothing left but to do the business tomorrow.
New Zealand's team pursuit hit the Chris Hoy Velodrome in the opening day's other action.
The quartet of Dylan Kennett, Pieter Bulling, Marc Ryan and Shane Archbold need a silver to match the New Delhi result. With luckless Aaron Gate's ambitions undone by untimely injury, Archbold steps in.
A bronze was won at the worlds. They are right in the frame.
So two medals will be expected on the first night of finals at what will be a packed velodrome.
That would also serve the useful purpose of laying the groundwork for what BikeNZ anticipate could be a bumper four days of medal gathering.