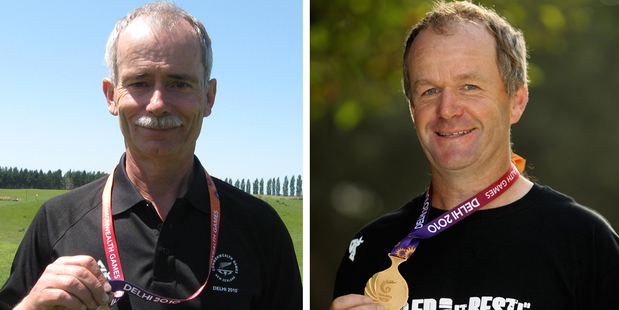 Defending champion fullbore pair Mike Collings and John Snowden are confident they are on target to press for a repeat when the Commonwealth Games competition begins on Friday.
And they are anticipating a vastly different situation than that they encountered in New Delhi four years ago.
There they won gold in the Queen's Prize pair, but only after appeals were survived and the medal ceremony delayed by hours. It was not an experience the men are keen to face again.
''It was such a shambles there," Whakatane marksman Collings said today.
''It was very hard, the sightings and targets were not working and it was frustrating. But things like that tend to make you stronger."
Collings and Ashburton farmer Snowden went through a six-month qualifying process at events on either side of the Tasman.
They arrived in Scotland yesterday and settled in at Carnoustie, handy to the famous golf course, near the Barry Buddon Shooting Centre, feeling confident in the pairs, less so in the individual, which follows.
''We did okay at Bisley (Surrey, where they had leadup competition), not as well as we'd hoped, but we had a lot of hot days, which we're not going to have up here," Collings quipped.
''Some teams just combine two individuals and they don't get on. We get on pretty well.
''When I shoot, John studies the wind and we do that really well.
''You've got to have absolute trust in your partner to pick the wind right."
Their initial look at the range has left them happy.
''The range looks beautiful. It's very well laid out. It has steep military mounds and we need to adjust to that. But the Scots have got everything pretty well organised."
Take away the Silver Ferns and the rugby Sevens and the men, along with shot putter Valerie Adams are New Zealand's only returning gold medallists from New Delhi.
Collings shrugged off the notion of any extra heat on them because of that, and there's no talk of bullseyes on their backs.
''It's a new ball game. The expectations are that we'll do well again, and we've just got to deal with that.
''I'm nearly 60 so it can get a little tough. As for John, nothing worries him."
It's a sport where competitors get a decent gauge on where the stiffest competition may lie. After all, numbers don't lie.
''But we want be watching them, there's no point. There was an Australian coach watching us this morning, but he won't learn much.
''You've just got to go and do what you do, and add up the scores in the end."
These men are true amateurs, paying their way by and large. Collings took redundancy from Tasman Pulp and Paper and went part time before New Delhi. These are men who do their sport for love, not reward.
The pairs competition consists of shooting over 300, 500 and 600 metres, then 900 and 1000 yards (crrt). The three-day individual event has the shooters doing two rounds at the three shorter distances, and one apiece on the longer ranges.
The shorter ranges is unlikely to spread the field.
''The longer ranges will decide it," said Collings. That's where the New Zealand men are intending to make their statement.