Swimmer has sights set on Rio Olympics after move to California revitalises his career.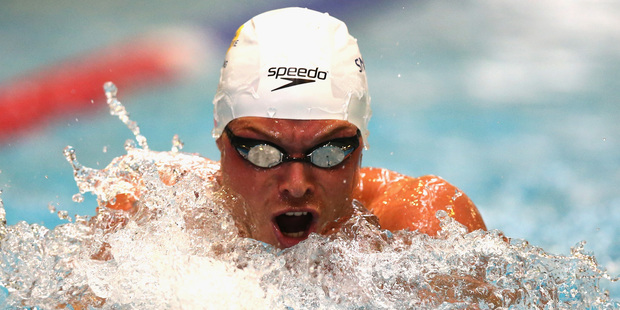 Glenn Snyders cut a distinctive figure with his California tan at the New Zealand flag raising ceremony in the Commonwealth Games athletes village yesterday.
And it's California which has shaped the country's best male swimmer's ambitions not only for the Games swim meet starting on Thursday (NZT) but also with an eye on the Rio Olympics in 2016.
The North Shore breaststroker moved to Los Angeles in December 2012 in search of moving his career and talents forward.
There was a feeling of stagnating, of having gone as far as he could at the Millennium Institute.
He won't say a bad word about his time there, but felt he needed to stretch himself. "I'm 27 now so it was about how long I have left," he said.
Snyders, national champion at all the breaststroke distances and among the top echelon in the discipline worldwide, had spent too long training effectively on his own and knew "there was only so much you can take before the appetite starts to diminish".
So he joined up with renowned American coach David Salo at the University of Southern California and loves it.
Some of the world's best breaststrokers train there, such as four-time Olympic champion Kosuke Kitajima, and multi-champion Jessica Hardy of the United States.
Snyders found himself with people who are friends and also swimmers he looks up to, and is challenging himself.
"It adds a whole new dynamic to training for me. It definitely is keeping the spark alive in me."
Presumably Snyders would therefore advise gifted young New Zealand swimmers to head Stateside. Not necessarily.
"There's nothing wrong with programmes back in New Zealand.
"What may work for me may not work for someone else. It's how that person takes the opportunity and uses it to their advantage."
As he outlined what he likes about the Californian environment, the enjoyment is clear.
Training is more about quality than quantity. He's living alone, studying online, undergoing significant lifestyle changes.
"My self confidence is definitely better. My technique is now at a stage where it's hard to change because I've been doing it for so many years.
"I'm training outdoors every single day. At 7.30am the sun is shining, it's hot and I'm getting a tan.
"You get to swim at a world-class facility with a world-class breaststroke coach.
"To just be in that environment I'm fortunate, and it's definitely motivated me towards Rio."
Glasgow and the Pan Pac championships on the Gold Coast late next month are stepping stones towards Rio.
Not that the Commonwealth Games translate to easy.
Snyders will be up against it, with the world's two best breaststrokers, South African Cameron van der Burgh and Australian Christian Sprenger for starters and classy Britons Adam Peady and Ross Murdoch.
Snyders will start with the 200m breaststroke before his best event, the 100m on Saturday, and the 50m sprint two days later.
This is his chance to demonstrate the benefits of his California decision.