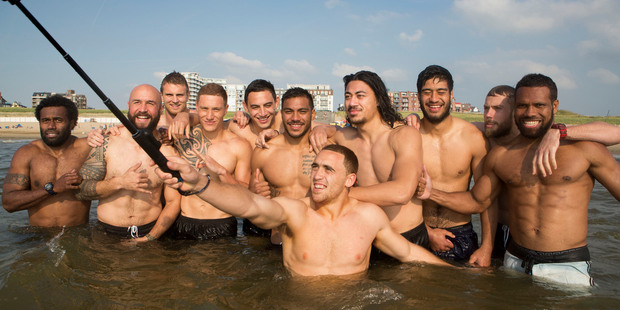 New Zealand's unbeaten record in sevens at the Commonwealth Games creates certain pressure but DJ Forbes believes it will be more benefit than burden.
Forbes led the sevens side to success in Delhi four years ago when the team remained unbeaten to claim this country's fourth successive gold medal in the sport.
New Zealand have yet to drop a game since sevens was introduced to the Commonwealth Games in 1998 - a challenge the current outfit will be expected to replicate. But Forbes thinks that record is all the incentive his charges need to triumph in Glasgow.
"We're trying to use it as motivation," the captain said. "There's pressure but the second you put your hand up to play in a black jersey for New Zealand, you're going to be expected to win.
"I guess it's my responsibility, as well as some of the senior boys, to nurture some of the young guys who may feel a bit of pressure.
"They have to look at it as a great opportunity to represent their country and use that motivation of having a chance to stamp their name in the legacy that's already been created."
The legacy was given further lustre four years ago when, after winning through the group stages while conceding only one try, New Zealand knocked out Wales and England before defeating Australia in the gold medal game. Those opponents, with South Africa and England, will again be among the usual suspects challenging for the title, but Forbes was wary of looking past a pool that included the hosts.
"As far as we're concerned, our pool is our biggest threat - we definitely don't want to trip up," he said. "To give ourselves a chance of winning gold, we've got to get through our pool.
"We've just got to focus on the little things and prepare well and, if we get a chance to meet some of those big nations, then hopefully we've done the hard work and put ourselves in a good position."
The New Zealanders kick off the tournament next weekend with a clash against Canada at Ibrox Stadium - home of football side Rangers - before meeting Scotland and Barbados later the same day. A quarter-final encounter with South Africa or Kenya then awaits, and Forbes was certain Sir Gordon Tietjens' 12-man squad had the credentials to progress further in the tournament.
"We've got the right ingredients for a great chance for a gold medal. If we're all on the same page, I can guarantee we're going to do well, but every game that we play we know that every country is going to be chucking the kitchen sink at us.
"It's going to be tough, but I think Titch has done his homework on who to pick and the combinations and all we need to do know is get the results," he said.
While Tietjens' selection was notable for an absence of big names, Forbes, like his coach, was backing the specialists to get the job done. He would know - it's exactly what happened four years previous - and another gold medal would add another chapter to an already-storied sevens tradition.
"It's just trying to keep that legacy alive. Sevens have never lost at a Comm Games and the legacy that's been put in place, with the four teams that have gone before us, is just massive.
"To be a part of that, alone, would be pretty special. But I think everyone knows, to win a trophy or win a World Cup is good, but to get a Commonwealth Games gold medal is definitely a highlight of anyone's career," said Forbes.