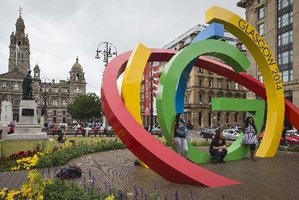 Glasgow hosts the 20th edition of the Commonwealth Games starting Thursday NZT, the third time it will be held in Scotland (Edinburgh 1970, 1986).
The opening ceremony takes place on 24 July at Celtic Park. The closing ceremony is at Hampden Park on 4 August.
17 different sports will take part with 261 events in total.
71 nations will be in Glasgow from Anguilla to Zambia.
Why Glasgow?
Glasgow, Abuja (Nigeria) and Halifax (Canada) all initially bid to host the event with Halifax pulling out. Glasgow beat out Abuja 47 votes to 24 denying the Nigerian capital the chance to be the first African city to host the Games.
Where it's at:
Hampden Park, Scotland's national football stadium with a capacity of 52,025, will be the main venue for the athletics and the closing ceremony.
Celtic Park will be used for the opening ceremony.
The venues, 70 percent of which already existed before Glasgow was awarded the games, are split into three areas - East End Cluster, West End Cluster and South Side Cluster.
East End Cluster:
The athletes' village will house 6,000 athletes and officials in 2,500 residential units.
Across the road from Celtic Park sits The Emirates Arena (capacity 4,500) which will host the badminton and track cycling.
Glasgow Green will host the marathon course, hockey and the start-finish line for the road cycling race and time trial.
Tollcross Park Aquatics Centre will feature the swimming events and sits 5,000 people.
West End Cluster:
The Scottish Exhibition and Conference Centre will host wrestling, judo and boxing.
Kelvingrove Park is the venue for lawn bowls.
Next door is the Scotstoun Leisure Centre which will host table tennis and squash.
South Side Cluster:
Ibrox Stadium, home of Rangers FC, hosts the rugby sevens tournament. Mountain biking will be held on the Cathkin Braes in Rutherglen.
Hampden Park will host all the track and field events.
The official mascot is Clyde, a thistle named after the river which flows through the centre of Glasgow.
In and out
Triathlon mixed relay event, women's boxing and a number of shooting events for women have been added to the Games.
Archery, tennis, walking events, synchronised swimming and Greco-Roman wrestling have all been dropped.
Triathlon (2006), judo (2002) and mountain biking (2006) all return.
Come on New Zealand
New Zealand has won a total of 565 medals going into the Glasgow Games: 130 gold, 189 silver and 245 bronze.
New Zealand's most medals have come in athletics with a 132 total, 32 of which were gold. The next most successful sport is cycling (82 medals, 16 gold), followed by swimming (77 medals, 13 gold), shooting (50 medals 14 gold) and lawn bowls (35 medals, 11 gold).
New Zealand has failed to win a gold in eight sports - Badminton, hockey, triathlon, basketball, water polo, diving, synchronised swimming and cricket.
Athlete Valerie Young has won the most gold medals (five) of any New Zealand competitor.
Shooter Greg Yelavich won 11 medals at six games from 1986 to 2006.
Lawn bowler Rowan Brassey also competed at six games (1982-2006).
At the last Commonwealth Games in Delhi, New Zealand finished 11th on the medal table with six golds, 22 silvers and eight bronze. It tied New Zealand's worst performance at the Games, when New Zealand also finished 11th in 1970.
Of the six gold medals won in Delhi, excluding the netball and rugby sevens team, just shot-putter Valerie Adams and fullbore rifle pairing Mike Collings and John Snowden will return to defend their titles in Glasgow.
See also:
New Zealand team
Games schedule