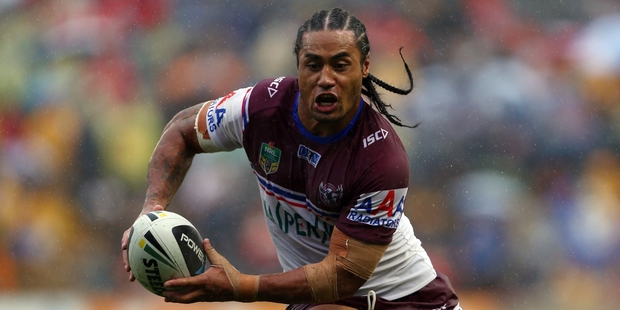 Steve Matai has revealed he has repeatedly sought a release from Manly and wants to join the Warriors next season.
After beginning his NRL career with the Sea Eagles in 2005 it would be a shock if the centre left Sydney's northern beaches, but Matai is disillusioned with the direction the club is taking after failing to re-sign his friend and fellow long-term club servant Glenn Stewart.
The Warriors denied any interest in signing the 29-year-old last month but it is understood they have tabled a four-year deal which could see Matai finish his career in Auckland.
"Glenn and I are quite close and the Warriors had put an offer through," Matai said. "I sat back, thought about it and realised it might be a good move for me and my family. It's a long-term contract and could be my last.
"I'm turning 30 this year. I've already asked the club for a release for next year. We'll see how everything unfolds and I might find myself over there.
I've asked them a couple of times actually."
Matai said Stewart's departure had left other senior Manly players unhappy more was not done to retain the back-rower's services. He hinted the club could suffer repercussions.
"I'm disappointed with the club. They didn't do their best to try to keep him [Stewart] here when he's one of a core group that has been together for a long time. It might have a snowball effect on other senior players.
"We've been together for 10 years and for the club not to see the culture we've built is disappointing."
Matai's comments appear to contrast with a team delivering strong results under coach Geoff Toovey, including a place in last year's grand final.
They demolished West Tigers 40-8 on Friday to reaffirm their spot at the top of the table. The former Kiwis centre clocked up 98 running metres and two tackle breaks in the seven-to-two try rout.
However, other elements indicate all might not be well with club culture. The victory came a day after winger David Williams was banned for the rest of the year as part of a betting scandal where he was found to have placed dozens of wagers across the past three seasons, including in matches he played.
If Matai comes to the Warriors, it raises questions about how that will impact on the current squad and especially Dane Nielsen, who has yet to reproduce the form he once delivered for Melbourne.
Matai's disciplinary record will also face scrutiny. Sydney's Daily Telegraph reported in May that Matai had overhauled a playing style, which two years prior had seen him lumbered with the worst judiciary record in the competition. In six seasons he had received 11 guilty convictions and missed 21 weeks. His name was synonymous with suspension.
However, age may have brought wisdom to a mercurial player who is one of the sport's most punishing tacklers and dynamic runners when he gets it right.
Mitigating any Matai deal would be the fact that since the start of 2013, he has missed only one week - for a careless high shot. This season his record remains unblemished.
"When I first started here at Manly, it was all about aggression," Matai said. "I used to think, to get over my opposite man, I had to just get the ball and run hard, try to smash them in defence.
"But I'm a bit wiser now. I know when to call for the ball, when to pass and where to be at different times in the game. Also, what timing is required to put on a shot. As a result, with the judiciary now I'm going alright."