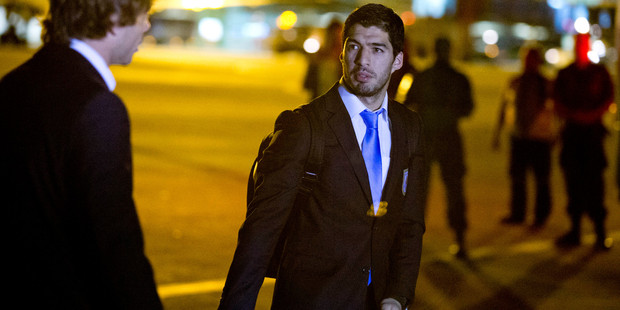 Sitting pretty?
The human rights commission won't like this. The buses in the north-east city of Fortaleza have the usual accessible seats for the elderly, pregnant women and mothers with children, but the sign above those seats also indicate they are for "Obesos" with a bloated silhouette figure that leaves little to the imagination. An Australian colleague suggested it could just be a new World Cup initiative, given the United States have more fans than anyone else.
Fifa's iron hand
The rigidity of Fifa and the easy-going nature of Brazilians was always going to lead to contrasts. In the mixed zone after one game last week, a suited Fifa officer told the local head of media she must do more to stop some newspaper journalists venturing into the area reserved for television journalists.
"But what can I do," she said, "trip them over?"
"Yes, you can," said our Fifa friend. "Kick them if you have to."
Desperately seeking Suarez
He's elusive on the field and Luis Suarez is also impossible to catch off it. Hundreds of journalists from around the world wanted to speak to the Uruguayan striker after the match against Costa Rica but he managed to dodge them all, giving a thumbs up and a wink as everyone called his name as he waltzed through the mixed zone.
"He's always like that," said one Fleet Street journalist. "He doesn't speak to anyone at all, although Robin van Persie is worse."
The reporter, who has covered Manchester United for years, said the Dutch striker has granted only two interviews in two years.
Romario's gift for Maradona
Romario, who inspired Brazil's 1994 World Cup victory and has since become a politician with the Socialist Party, features in one of the best commercials on Brazilian television. While buying a pair of Haviana jandals, he tells the shop assistant to box them separately.
"I never had a left foot," he explained later to a friend as he wore one jandal while watching a game. "But I've got a friend who does", as the jandal is couriered to a certain Diego Maradona in Buenos Aires.
Maradona also features in another commercial here, his head popping maniacally out of a couch in an advertisement for the Brazilian version of Trade Me.
Running into Ronaldo
Ronaldo, who retired in 2011 having scored more World Cup goals (15) than any player, is now a popular expert commentator, alongside other former players such as Roberto Carlos. The 37-year-old caused pandemonium as he wandered through the media room last Wednesday, with dozens of journalists from around the world clamouring for a photo with El Fenómeno (The Phenomenon). He was kind enough to stop for the Herald on Sunday, remarking that he still remembered the All Whites' efforts in South Africa four years ago.
Budget blowout
We have issues with Eden Park but this World Cup will create a couple of white elephants that could be on the scale of Montreal and their Olympic stadium. The Arena da Amazonia in Manaus cost 670 million reals ($346 million, around $80 million over budget) and it's hard to see how it will be used beyond the World Cup. Their favoured sport is jiu-jitsu and they don't have a football team of any note. It could be even worse in the capital Brasilia. The 70,000-capacity Mane Garrincha cost 1.4 billion reals ($723 million, almost double the projected figure) but local league matches in Brasilia usually attract no more than 5000-6000 spectators.