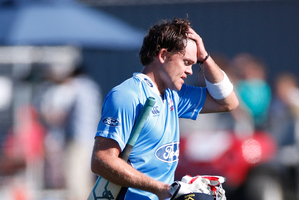 Lou Vincent has become the first New Zealand cricketer to be banned in relation to match-fixing.
Vincent has been banned from playing in the Bangladesh Premier League for three years after he admitted failing to report an approach from a bookie during the tournament early last year.
The judgement is due to be published on the Bangladesh Cricket Board's website shortly.
The sentence was read out in Dhaka by Justice Khademul Islam, the convenor of the three-member anti-corruption tribunal.
Former Bangladesh captain Mohammad Ashraful received a ban of eight years (three years suspended) for his involvement in match and spot-fixing in the 2013 BPL, while Dhaka Gladiators managing director Shihab Chowdhury has been banned for 10 years (three years suspended) for fixing. Sri Lanka batsman Kaushal Lokuarachchi received an 18-month ban for failing to report an approach.
Those sentenced have 21 days to appeal.
The news coincides with Vincent's former Sussex teammate Naved Arif's ban for life by the England and Wales Cricket Board after he admitted breaching the board's anti-corruption code.
Arif pleaded guilty to six breaches of the code, all of which related to the CB40 fixture between Sussex and Kent at Hove in August 2011.
Vincent and Arif were charged simultaneously with match-fixing by the ECB. Vincent was charged with 14 offences in relation to that match and a Sussex T20 contest against Lancashire in the same season. Arif's charges only concerned the Kent fixture.
The ECB persisted with the investigation after two other enquiries failed. The Sussex-Kent match was investigated by the ICC's anti-corruption unit (ACSU) but insufficient evidence was found for it to progress. Sussex reached the same conclusion during an internal investigation. The ECB reopened the case in 2012.
It is the first time the ECB has concluded the outcome of a county match was fixed.
Arif cannot play, coach or participate in any form of cricket recognised by the ECB, International Cricket Council or any other national board. Cricinfo reported he was playing for Little Stoke in the North Staffordshire and South Cheshire League at the start of the English club season before a temporary suspension was imposed in April.
In a statement through his lawyer last month, Vincent confirmed he had received charges from the ECB.
"He will work through these and the process for dealing with the charges as required," the statement read.
"He further confirms the charges arise from the matters he has disclosed to the authorities, and he remains accountable for his actions of the past."
If Vincent's found guilty, like Arif, it's expected he will face a lifetime from the sport under the ECB's jurisdiction.