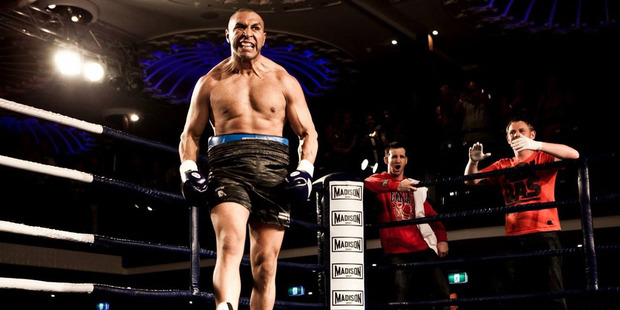 Boxing often lends itself to colourful back stories and Australian heavyweight champion Hunter Sam is no different.
Six years ago, the aspiring rugby league player was sleeping rough in Brisbane when he didn't have a place to call home after falling out with a few people.
"I could hold my job down. I just slept in my car, slept in the park; where ever I could," he said. "I didn't want to be a burden to anyone at the time when you're being independent and proud. It happens to some of us and tough times fall upon us in some way or form.
"We all learn our lessons, that's the main thing. We all go through tough times and it makes you stronger and makes your character."
Sam's character helped him join the army in 2010 as he looked to get his life back on track and concentrate on a boxing career, which began as a cruiserweight with a victory over fellow debutant John Boyd at the Irish Club in Brisbane in 2008.
The 29-year-old, who weighed 81kgs for his maiden fight, has packed on considerable size from his days as an outside back on the league field and he tipped the scales at 108kgs when he beat David Levi via unanimous decision to claim the vacant Australian heavyweight title in Sydney in December.
Six months ago, Sam (10-2-2) left the army and now works as a personal trainer and a bouncer to supplement his income from boxing but his need for money may change in a few days.
The Queenslander has been given a wildcard spot in Wednesday's Super 8 tournament in Auckland, which has a $500,000 purse, where eight fighters have been matched and the pairs will meet over three three-minute rounds until an overall winner emerges to claim the $200,000 first prize.
In the first round, Sam has drawn Kiwi-born veteran Kali Meehan who hasn't fought in more than two years.
At 44, Meehan is in the twilight of his career but sparred with Australian Alex Leapai before he unsuccessfully challenged world heavyweight champion Wladimir Klitschko in Germany in late April.
Meehan has also built up for the Super 8 by working with Australian-based Tongan Bowie Tupou and his teenage-son Willis who is a top amateur boxer and rugby league player, while Meehan's monster 1.96m frame is a challenge for anyone.
During a lengthy professional career, Meehan has built up a 38-5 record and nearly claimed a piece of the world heavyweight title when he was edged by American Lamon Brewster in a split-decision loss with the WBO crown on the line in 2004.
Wednesday could be a life-changing day for the 1.85m Sam but he will enter as an underdog against Meehan.
"I've won three titles in the last 12 months and each time I've been the dark horse and I like to be that. Just a real no-name and just go with the flow," Sam said.
"Hard work does pay off if you want to make the sacrifice."
- APNZ