All Whites midfielder gets chance to show worth after horror run of injuries at Stuttgart.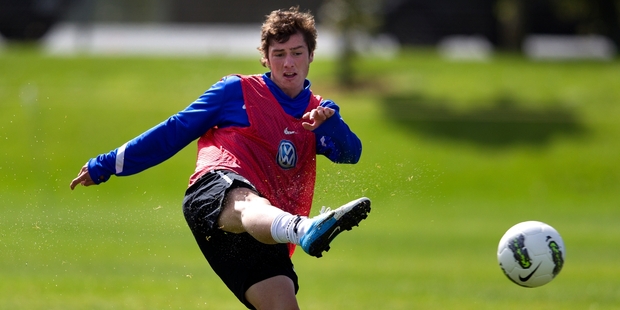 All Whites midfielder Marco Rojas feels he has a point to prove.
Twelve months ago, the pacy 22-year-old attacking midfielder had just conquered Oceania. He was the best player in the 2012-13 A-League, had earned a lucrative four-year contract to play at Stuttgart in the Bundesliga and was ready to take on the world.
But then the dream run ended.
Two days into his German stint he fractured his left foot. Soon after recovering he tore his adductor, then developed patella knee problems. In six months he suffered more injuries than he had his entire career.
Rojas moved into an apartment with agent, manager and dad Rodi, trained twice a day in rehab and watched from the sidelines as Stuttgart dumped not only the coach that signed him, but also his replacement as they struggled to 15th in an 18-team league.
But after 12 months of adversity Rojas is back fully fit and hungrier than ever. He is primed to show that he still is New Zealand's best player, he still can win games and he still can make it in Europe.
Rojas defiantly turned down any suggestion of a loan move to get more first team play, instead seeing the perfect opportunity to impress new Stuttgart coach Armin Veh upon his return, whom he is yet to meet.
"I never thought about that," Rojas said. "Because of the situation now I want to prove myself to the new coach. I feel like I've got something to give and until I've given it everything I've got and still have no luck, then I will think about something else."
Tonight is the start of that new chapter for Rojas as he makes his 17th cap for the All Whites against South Africa in their international friendly at Mt Smart Stadium. He will play wide on the right wing in an exciting four-man midfield with fellow Hamiltonian trickster Ryan Thomas on the opposite flank.
Rojas is a clever player. He lulls defenders into a false sense of believing they can win the ball then scoots past them with quick feet and an inventive mind. He shares with Thomas a talent rare in New Zealand players - the ability to beat a man at speed.
"It will be the first time Ryan and I have ever played together," Rojas said. "We both grew up in Hamilton around the same time but he was a few years younger and we trained together a few times but never played. He's similar to me in terms of size but I think we both have something a bit different to offer."
The prospect of a fully-fit Rojas and pacy Thomas attacking down the flanks represents an exciting new chapter for New Zealand Football and will help detract from the match's notable player withdrawals.
Winston Reid, Tommy Smith, Chris Wood, Shane Smeltz and Kosta Barbarouses have all pulled out, along with nine of South Africa's original 18-man touring squad, but the depleted visitors still managed a 1-1 draw against Australia on Monday night.
"I'm relatively new to the All Whites and I still think of myself as someone who has a point to prove. I need to continue to learn from the older boys in the squad," Rojas said.