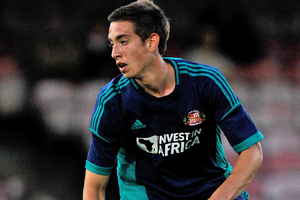 New Wellington Phoenix signing Alejandro Gorrin has arrived in the capital and could make his debut for the club in July in their pre-season friendly matches against English Premier League sides Newcastle and West Ham United.
After being released by Sunderland, where he spent the past four years but never played for the senior side, the 20-year-old has joined the Phoenix on a two-season deal.
Gorrin, known as Alex, is a midfielder who was a regular for Sunderland's reserve team, and was excited about the prospect of meeting Premier League opposition during July's Football United Tour.
"Yeah, I can't wait," he said. "I'm really looking forward to it."
Phoenix coach Ernie Merrick has spoken with Gorrin, who was recommend to the club by Sunderland's youth team coach Robbie Stockdale, a former teammate of Wellington assistant Chris Greenacre.
"He just wants me to be creative and work hard for the team," Gorrin said of Merrick's instructions.
"At the moment I'm just concentrating on pre-season, which starts in a few days and we'll see how it goes."
Given the off-season departure of midfield whiz Carlos Hernandez, the Spanish flair of Gorrin will be welcomed at the Phoenix who stumbled to ninth place in the A-League last season.
"I would like to become an important player on the team," Gorrin said. "I want to put a lot of hard work in to becoming that player."
Gorrin's work ethic and passion for the game was one of the features of his character during his time at Sunderland and Merrick values players who show the right attitude, which may have helped Gorrin secure a place on the Phoenix's roster.