Young discus thrower goes from schoolyard success to challenging the best on the international stage.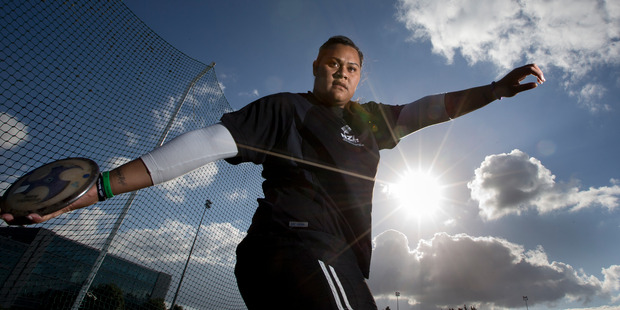 Siositina Hakeai started throwing the discus because she relished the chance to beat the boys at school.
Now she's weeks away from being a medal contender at the Glasgow Commonwealth Games.
Hakeai, 20, will arrive in Glasgow ranked third among Commonwealth throwers. Australian Dani Samuels is No5 on current world standings, with a personal best of 67.89m, set in Shanghai this month; Britain's Jade Lally is No25; then comes the young Auckland woman who is making rapid strides at No29 in the world.
Beatrice Faumuina was the athlete the young Hakeai used to look up to; now she's eyeing her best marks.
Faumuina's national record of 68.92m, set at Oslo in 1997 -- shortly before she won the world title in Athens -- is the New Zealand standard; Hakeai has a way to go with a personal best of 59.65, set in Hamilton in February, but give her time.
"She was the big thing back then. I thought she was amazing. Her senior record is huge," Hakeai said.
"I wanted to be exactly like her, or better. I looked up to Beatrice."
Her sporting career path began in unlikely circumstances at Viscount School in Mangere when netball training turned into something different.
"I didn't go straight home after school. I stayed back for netball training. I saw these people throwing, it looked fun so I went over and had a try, and enjoyed it."
Beating the boys left the 11-year-old chuffed, and she hasn't looked back.
She had two trips to the world junior championships, in 2010 and 2012. She was the youngest in the field the first time in Canada and made the final 12. She was fourth in Barcelona two years later.
In between, there was a trip to the world youth championships in France and "I got too excited. I was ranked No3. I did really well at the event I didn't train for (shot put) and didn't do well in the event I did train for (discus)."
Hakeai had a think about this and decided she had to avoid getting too wound up before meets.
She opted for discus over shot put because that was the discipline in which she qualified for the world juniors. Her younger sister, Ofa -- she has three sisters -- is the shot putter in the family.
Hakeai competed against double Olympic champion Valerie Adams.
"She's nice. To be in the same competition as her was good experience -- and she makes you really nervous."
Hakeai is determined the occasion won't get the better of her in Glasgow.
"Last season a big work-on for me was to relax," she said.
"I think I've learned from my recent competitions so I'll be relaxed and will be ready."
She has the Rio Olympics in her mind -- "I'd love to make the top eight, and from there fight for a medal" -- but for now she'll be doing it from her home base.
Overseas scholarships don't interest her. Family matters. She has the names of her parents, Kaloline and Raymond, inked on her wrists.
"I'm really happy with my coach (Matt Dallow) and the support team I have here and I think if I do go [to the US] I won't get as much support. I have a coach, a life coach, Athletics New Zealand are really supportive -- and my family is a big thing."