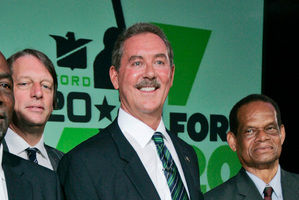 In the midst of the dilatory schemozzle of the International Cricket Council inquiries into match fixing, came a gem from batting great Glenn Turner.
He said: "Cricket's always tended to reflect what's going on in society ... Money is put ahead of ethics so why should we be surprised? Perhaps it's just a way of life now and we're behind the times but catching up to being a society where it's acceptable to grease someone's palm to get things done.
"The true test will be whether it stops people going to cricket. Are they still willing to watch someone excel with bat or ball, even if they're uncertain about the result? It will test whether people still believe in the game."
Ain't that the truth? Cricket, perhaps more than any other sport, has allowed itself to be warped by greed and money. While the spotlight is trained on corrupt players right now (and fair enough), those shadowy figures creeping round the edges - bookmakers and gangsters dangling their rat bait - escape detection.
And where did they get their lead? From cricket's governing bodies, that's where.
Many will recall Sir Allen Stanford, the disgraced financier serving a 110-year sentence for a crooked Ponzi scheme.
He was supposedly the white knight of cricket when he helicoptered into Lord's in 2008 with a transparent plastic case containing US$20 million ($23.39m) in cash, greeted by fawning cricket heavies who wanted the dosh for a T20 series between England and the West Indies - a response to the threat of the Indian T20 leagues, the IPL and the ICL.
Stanford was pictured smiling proudly over his cash. He looked enormously self-satisfied, like a man who had bought cricket and then slept with its wife.
If ever there was a moment when a sport lurched into the pit of Mammon, that was it.
The England and Wales Cricket board (ECB) and the ICC have hardly covered themselves in glory.
Overshadowed by the real force in the sport - India's BCCI - they have taken so long to move on match fixing (admittedly difficult to prove in a criminal court) they look like they don't really want to address the problem. Any progress is being made by trial by media.
The leaks so far look motivated by frustration or politics, or both. Were they're the work of a person or persons within the ICC who felt the matter might not be effectively dealt with and chose to try the matter in the court of public opinion?
It's easy to ask such questions when the parent body of the anti-corruption unit has as its next scheduled chairman one N. Srinivasan, president of the BCCI - stood down from that until the completion of an investigation into alleged betting and spot-fixing scandals in the IPL. However, Srinivasan still attended ICC meetings last month and is slated to become the new chairman in July, even though India's Supreme Court is investigating spot-fixing allegations surrounding the team Srinivasan owns - the Chennai Super Kings.
There has already been some handwringing over the effect of all this on the 2015 Cricket World Cup here. By February, when it starts, it could well be international cricket's saviour. That was the billing given to T20 - the fan-friendly, fundraising version of the game.
But it has no real context other than money, no history and little dignity. Outside India and foreign contracted players, no one cares.
All it has really achieved is to become a foul-smelling breeding ground for the bluebottle flies of corruption.
ODI cricket is also potentially subject to the fix. But there's probably no better place for the World Cup to be played than Australia and New Zealand.
Even though New Zealand cricketers are in the match-fixing spotlight, we all know it goes wider than that. Hansie Cronje, anyone? Salman Butt? Amir Khan, Mohammad Amir, Mervyn Westfield, Danesh Kaneria and many others? The ICC's anti-corruption unit says it's monitoring suspected activities by over 100 players.
So the World Cup, contested in two countries populated mostly by hard-nosed players for whom a world title is more than just an opportunity for graft (of the palm-greasing variety) may not only re-assert the virtues of the 50-over game, but it may also help save cricket. There will be millions watching for any sign of a rogue no-ball, coloured bat handles and surprising errors in the field.
Match fixing will never die out fully but, to quote the ancient saying, 'this too shall pass'.
If the 2015 World Cup succeeds, it should help to bury the greed and revive some of cricket's character. In a grave alongside the greed, it should also bury fixing's dark twin T20. It's the manure spread on cricket's pastures - but gives more life to choking weeds than it helps the game flower.