Numbers tell the turn around tale as coach's work on defence gets results.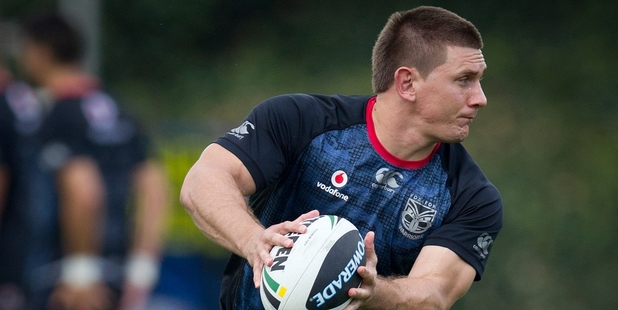 The Warriors set a goal pre-season to be the best defensive team in the NRL. It seemed a laughable ambition in the early weeks as they leaked the most points of any side in the competition, but a change has occurred.
The Warriors under new coach Andrew McFadden can defend.
That couldn't be said over the last few years but the Warriors' recent resurgence is built on their new-found defensive resilience.
The fragility, the uncertainty and the downright frustration that came with a team that seemed to fold under pressure and couldn't defend their line seems to have gone.
In the first five rounds this year, the Warriors leaked more than 28 points a game. Opposition teams were averaging five tries a match, and only once did the Warriors concede less than 20 points.
In the five games to date under McFadden, they conceded under 16 a game and the opposition have averaged less than three tries a game.
"When a try is scored there's usually three or four reasons for it," hooker Nathan Friend said.
"If you can cut those back to one, you probably don't get a try against you and that is what we're trying to do.
"It's one thing to know all the structures but it's another thing to implement it. That all happens with attitude and effort."
Experienced prop Jacob Lillyman agrees.
"There is more belief now," he said. "At the start of the year, if a team got back-to-back sets on us you would start to worry. You wouldn't expect them to score but it wouldn't be surprising if they did. Now there's a lot more confidence that we can repel the attacks."
That was apparent in Hamilton last Sunday, as the Warriors held up well in the second half despite long periods of Bulldogs possession. It wasn't enough to win the match but it meant they stayed in the game. It will again be a focus today against the Titans.
So what has driven the change?
"Cappy [McFadden] has brought in a lot more intensity to training," Lillyman said. "He's not accepting mediocrity. If it's not done properly, we do it again.
"And if it's not up to his standard, we pay the price. Our opposed sessions are also much more physical."
Lillyman said the team were getting off the line with far more intent - "not sitting back and waiting for teams" - and being more aggressive in shutting down the time of the opposition playmakers, which has flow-on effects for the edge defenders.
Defensive issues have blighted the most recent campaigns.
Last year the Warriors conceded 20 points or more in half of their games, holding opponents to less than 16 on only three occasions. In 2012, opposition teams averaged more than 25 points a match against the Auckland club.
McFadden knew that needed to change. As a player, he was part of the famed Raiders' "Mac Attack" - a livewire halves duo with Andrew McLinden - but was well schooled in defence, a brief stint under Craig Bellamy particularly influential.
"What you get from Melbourne is the attitude part," he said. "They are not unbreakable, but they make you work for everything you get.
"There are lots of different defensive structures out there but they only work if you have the right attitude.
"We have to have a resilient defence to enable us to compete when we're not on our game.
"Look at last week - we put ourselves under a lot of pressure with errors but our defence is what kept us in the match."
Their defence will be tested again today, with behemoth Dave Taylor marauding out wide along with speedsters David Mead and Albert Kelly.
But the Warriors have built a remarkable record against the Titans. They haven't lost to the Gold Coast since 2010, reeling off six consecutive wins in the process.