Former horse-rider Kate Fluker found a new talent after going biking to make friends.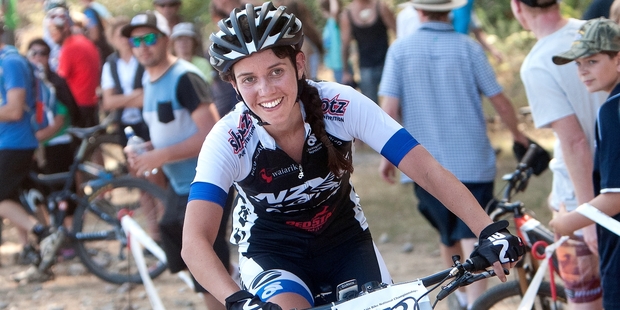 Four years ago Kate Fluker decided to go for a bike ride.
She'd just moved to Queenstown with her partner Reon. Making friends, she found, was not that easy in the transient setting in the winter playground.
Reon already rode; so did his mates and their girlfriends - "so I decided I'd better get a bike and make friends," she laughed.
Fast forward and out of such unpromising beginnings, Fluker is now preparing for the Glasgow Commonwealth Games, as New Zealand's sole woman mountainbiker.
Before starting out, the only riding the 26-year-old cross country rider had done was to intermediate school. Horses held more appeal during her years boarding at Nga Tawa Diocesan, in Marton.
But Queenstown was where Fluker, a property valuer, discovered, to her surprise, she had an aptitude for the sport, beating others up the hill climbs.
"I remember thinking 'this isn't quite right, I haven't done anything and I'm unfit'. The comments everybody gave me made me think maybe I have got something natural which I should pursue."
Fluker contested the World Cup circuit last season. The realisation gradually dawned as to how much she was missing out by working fulltime then having to train and find funding in between.
"It's a lot of stress, you end up quite tired and made me realise if I could purely train I could take it a lot further. This year I only worked part time, the rest was training and fund raising."
Fluker had finishes of 49th, 36th, 43rd and 34th on the cup circuit last year. She won the two rounds of the national series in Wellington and Nelson earlier this year, beating London Olympian Karen Hanlen in the process, and when she cleaned up the national title in Whakarewarewa Forest, Rotorua, beating Hanlen - albeit by less than a minute - it helped convince her that she was on the right track.
A 17th placing at the Cairns round of the World Cup in April was another part of the qualifying process. Her selection is also an indicator of potential to produce a strong result at the Rio Olympics in 2016. That's more of an end game. There are important matters to be covered off first.
Ask Fluker what spins her wheels about mountainbiking and the answer could be called unconventional.
"I really like how proud my family and friends are of me. I grew up riding horses and did okay, but haven't really had anything I've been good at, and it's a nice feeling to have that support.
"And there's a lot to love about training in Queenstown. You need to appreciate that every day."
Back in 2010, the idea of competing at a Commonwealth or Olympic Games was as far as it could be from Fluker's mind.
"I just wanted to do my first race, then I looked at another. Racing at my first nationals I was so nervous, it was such a big deal to me."
Her sights have shifted significantly.
"Top five, I'd be happy with that," she said of her Glasgow ambitions.
"I've heard from a lot of athletes when they go to big events the whole thing is overwhelming. It's going to be hard enough to perform against these girls anyway. It's good I've been given this opportunity to race and try to set myself up for Rio. I think I've got the potential to do it; I've just got to put it all together on race day.
"Rio is something I'd never thought about, then it all came pretty real. I guess as you reach your goals you make new ones and make them harder. I guess Rio is the next step."
Fluker competes in the third World Cup in Nove Mesto, Czech Republic this weekend before heading to the Alps for training before going to Glasgow. She's determined bike riding won't become a grim-faced business.
"It was purely a fun thing to start. I make sure that's stayed with me. My boyfriend keeps me really grounded and reminds me why I do it. You've got to be enjoying it."