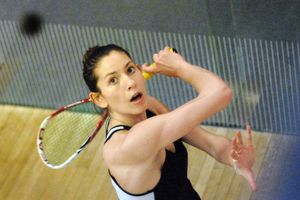 An eight-person strong squash team has been announced for the Commonwealth Games in Glasgow, led by women's world number four Joelle King.
King was the star of the 2010 campaign in Delhi, claiming a gold medal in the women's doubles with Jaclyn Hawkes and silver in the mixed doubles with Martin Knight. She also finished fifth in the singles.
Her efforts were rewarded with the honour of carrying the New Zealand flag in the closing ceremony.
The 2010 medal haul continued a tradition of success for New Zealand on the squash court at the Games. At Manchester in 2002 the team picked up two golds and a silver and four years later added a silver and bronze in Melbourne.
25-year-old King will represent New Zealand in three events in Glasgow - the singles, women's doubles and mixed doubles.
Martin Knight will once again partner King in the mixed doubles, but Jaclyn Hawkes has now retired, opening up the opportunity for another player to partner King in the women's doubles.
That opportunity has fallen to Bay of Plenty's Amanda Landers-Murphy, ranked number 43 in the world. Landers-Murphy will also play the mixed doubles with rising star Paul Coll from Canterbury.
Two of the remaining four players are backing up from the Delhi Games, with Campbell Grayson partnering Knight in the men's doubles and Kylie Lindsay pairing up in the women's doubles with another rising star from Canterbury, Megan Craig. 22-year-old Craig is in top form at the moment, winning the WSA Tour's Northern Territory Open in Australia at the weekend.
The other new face in the team is 21-year-old Aucklander Lance Beddoes, who will partner Coll in the men's doubles.
New Zealand Squash Team (world ranking in brackets):
Joelle King (4)
Megan Craig (42)
Amanda Landers-Murphy (43)
Kylie Lindsay (55)
Campbell Grayson (42)
Martin Knight (48)
Paul Coll (87)
Lance Beddoes (171)