92-year-old from Levin, participating in next week's world veteran table tennis champs.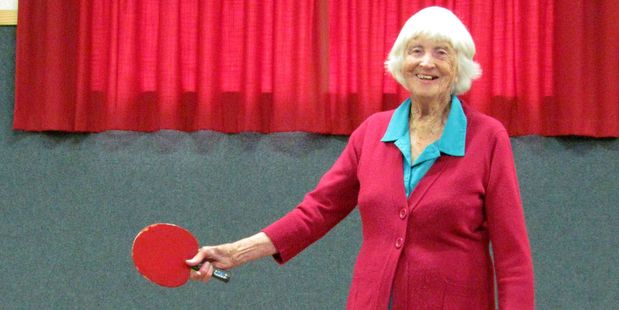 Q: What's the secret to your ping-pong longevity?
A: I've just kept going. I haven't had anything go wrong, so I've no reason to stop. I've stayed fit and the only time I've been in hospital was for maternity reasons [four times] so I've been lucky. If I can do it, you could too ... if you wanted to.
Q: What got you into the sport in 1939?
A: A good friend, Audrey, and I played at work [the Housing Corporation district office in Wellington] and there was also a chap there who was quite good. We played in the lunch hour and again after work. I just do things and don't think about them too much. I don't think it needs a write-up. That's a bit odd.
Q: Do you prefer the penhold or shake-hands grip?
A: Not the penhold, you don't see that much. I like the normal grip.
Q: What's your biggest strength?
A: Well, my forehand is stronger than my backhand.
Q: So your opponents should be aiming for your backhand?
A: I would, if I was playing me.
Q: Was there a Forrest Gump in your life who you learned the art from?
A: No, we just played. I've never really practised. We used to go along to the local club. Levin's not very big, so there's no official competition as such. We just play whoever's there, as well as the odd game in Palmerston North or Feilding.
Q: A source told me you were part of the revolution for women to wear shorts for ease of movement around the table. Any truth to that?
A: Yes - they were more comfortable, simple as that.
Q: Any plans for the upcoming tournament?
A: People are coming from all over the world.Not really. I'll play the singles and I've got a doubles partner, an English woman [Phyllis Hughes] who's coming from America. She wanted a partner so they suggested me.
Q: How else do you enjoy filling your days?
A: I do quite a bit of walking, sometimes I do the crossword. I used to do them every day but it's just the occasional one now.
Q: Cryptic or quick?
A: Quick.
Q: You climbed Mt Taranaki a few years back?
A: Yeah, but so do a lot of others. It's no great achievement. My sister lives over that way.
Q: Any other secrets to a long life in which you never take medication, live independently, don't need glasses, drive and look after a section?
A: I just do the things I need to. For instance, I don't do the lawns any more. I find it too heavy lifting the bucket off the mower.