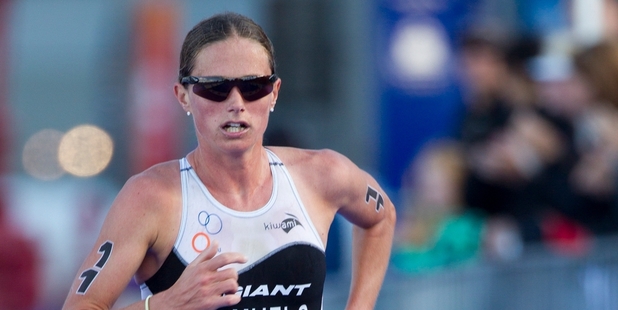 Unwanted triathlete Nicky Samuels has appealed against the decision to omit her from New Zealand's Commonwealth Games team for Glasgow.
When the squad of five was named on Thursday, three men and just two women, top-ranked Andrea Hewitt and Kate McIlroy, were named for both the individual event and mixed relay. Samuels, a longstanding member of the national team, was listed as a reserve for the relay.
The Wanaka athlete competed at the 2012 London Olympics and was twice placed fifth in world series events last year, in Auckland and Kitzbuehel, Austria. The Herald understands a panel has convened to assess the appeal. A decision is not expected before the end of the long weekend.
Samuels, 31, finished 16th in the Auckland leg of the world series this month, three places behind McIlroy.
Triathlon New Zealand is confident it has medal-winning capability in its squad, albeit on the back of an injury-plagued buildup.
Of the five chosen, only the Hewitt and Ryan Sissons qualified through the automatic route. Former world No 1 Hewitt finished eighth in the world series final in London last year. Sissons was sixth in the Auckland world series race, so both were inside the requirements for direct passage to the Glasgow Games in July-August.
Tony Dodds, Tom Davison and McIlroy got in by the often-contentious discretionary route.
That can take the form of cutting some slack for injuries or bike mechanical issues.
"There's the discretion to improve the potential to win medals," TNZ high-performance boss Graeme Maw said.
Dodds fractured his elbow in the New Plymouth World Cup event this year, but is back training in all three disciplines and will race in China and Japan next month. McIlroy had heel surgery on an injury which has troubled her for a year.
On the strength of three weeks' training, she finished 13th. Davison turned in a sizzling bike leg in Auckland and although finishing 36th TNZ sees big potential. "The selection was no easy process, and reflects the need to be smart as well as fit as the sport continues to progress," Maw said. "We have no illusions of the challenge we face in Glasgow," he added, pointing out that four of the six podium spots in Auckland this month were filled by Commonwealth athletes.
The mixed relay is a distinct medal chance for New Zealand.
The quartet of Hewitt, McIlroy, Sissons and Dodds won silver at last year's world championship event in Hamburg, behind the hosts, with the US third. That suggests a big opportunity, and McIlroy and Dodds' situations would not have been hurt by that.
It may be the introduction of the mixed team event is a boon for a sport which needs strong results in Glasgow.
"We've got a huge chance of coming away with a gold medal," Sissons said.
"If we all put it together there's no reason why we can't. We all have our strengths and weaknesses but we've got a very dynamic team. There's a bit of time between now and then and it's about how we prepare."
Maw called the relay the event with the "highest medal probability".
"Nothing is guaranteed but it is the world level medal we hold. We know we can put together four to match the best in the relay."
Sissons has checked out the course in Glasgow and likes what he sees.
"I think it's going to be good," he said. "It's not flat, but not really hard, like the Auckland world series course, but it's certainly got a bit of undulation on the bike and run. Certainly it'll be a more interesting course than some we have."
Hewitt sits fourth among Commonwealth Games-eligible athletes, Sissons fifth - although the likely presence of Olympic champion Alistair Brownlee, yet to start on the world circuit this year, effectively means he has five ahead of him. Similarly Britain's well-regarded woman racer Non Stanford wasn't in the Auckland field.
Auckland was, Maw said, "a great reality check and absolutely vital".
Hewitt is buzzing about the prospects too. "We have a great opportunity to bring home two medals. It will be tough with so many great triathletes coming from the Commonwealth countries but the Commonwealth Games is my focus this season.
"The team racing brings an exciting dynamic which is great. Racing for each other is a great feeling; I can't wait to be a part of it."