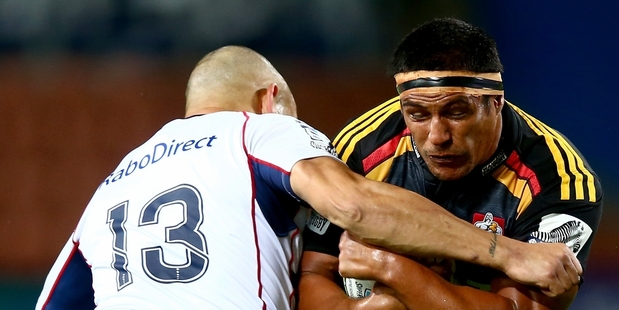 Tanerau Latimer knows the Chiefs need some "rocket fuel" and he may be just the player to provide the extra charge this weekend.
Latimer will become the second man to reach 100 games for the Chiefs when the champs take on the Crusaders in Hamilton on Saturday, following close ally Liam Messam into the record books.
Few members of the Chiefs are as well-regarded internally as Latimer and, if his teammates needed any additional incentive ahead of another New Zealand conference showdown, the sight of the flanker leading out his side will provide just that.
That is, if Latimer starts. He has continued his job-sharing role with Sam Cane this season and, in typically humble style, Latimer was hardly about to let sentiment influence selection.
"Playing 100 Super Rugby games is an achievement but doing it for one franchise is something I will look back on and be proud of," he said. "But even if it means coming off the bench, then I'll do my part off the bench and I'd be happy about that."
Given the capricious nature of Dave Rennie's team selection, there's no such thing as a sure thing. But Latimer will almost certainly earn a spot in the run-on XV, with Rennie unlikely to deny the milestone moment to one of his most loyal charges.
"He's a terrific man - just the heart and soul of this group," Rennie said. "The great thing about him is he's a leader, so he's prepared to wag the finger and challenge but he'll also put his arm around some of the young guys.
"He's got that mix of leadership and friendship - they're quite well-balanced."
Another man to have attained that balance is Messam, and it will be fitting for Latimer to bring up his century alongside his loose forward partner. The two stalwarts are among the most influential players in the history of the franchise and, while he shrugged off the significance of a round number, Latimer's pride was clear in sharing the milestone with Messam.
"We've just been lucky enough to stay injury-free and clock up the games - that's all it is. But the thing I will most enjoy is looking back one day and seeing my name alongside Liam's.
"He's a guy I've played a lot of my rugby with and we're both from Bay of Plenty, so that will be one of the proudest things."
Latimer has just recently received plaudits for his longevity, having already reached 100 Super Rugby games when accounting for a brief stint with the Crusaders to begin his career, but Rennie said Latimer was reluctant to celebrate the earlier mark.
"It's funny, he didn't want a big deal made out of his 100th because he feels this is more important. It's a special day for him and his family and I know the boys will get up for it."
It would be appropriate if Latimer's achievement becomes the catalyst for the Chiefs to shake off their struggles of recent weeks. Though they have lost only one game in the campaign, the Chiefs still seem some way from reaching top gear.
But Latimer, for one, believes the next fortnight, bringing meetings with the Crusaders and Brumbies, can spur his side to top form.
"They're two massive games," he said. "We're simmering and we just need a bit of rocket fuel to get us going. We're only a game away and once we get that going you'll see this team really grow."
Previous clashes with the Crusaders - a thumping in Christchurch aside - have brought out the best in the Chiefs and Rennie was determined for the same to happen on Saturday night.
"We're up for it," he said. "Crusaders-Chiefs games have been huge in the last couple of years and, in Lats' 100th game for the Chiefs, there are a number of motivating factors for us to front."
- APNZ