Franchise system will mean greater accountability, says retiring domestic cricket star.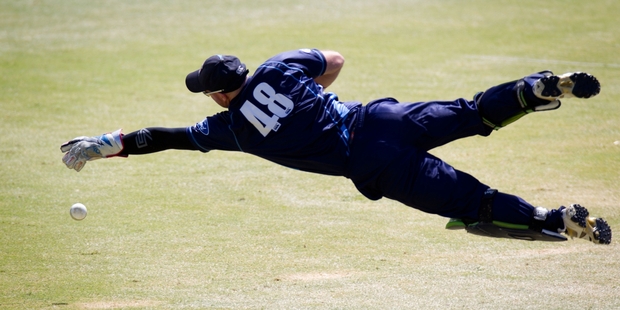 The country's longest-serving domestic cricketer applauds plans to move towards more privatisation in the game, just as he's leaving it.
Gareth Hopkins has retired, at 37, ending a career which began with a one-day game for Northern Districts against Central Districts in September 1996 and took in stints with Otago and Canterbury before spending the past seven years with Auckland, latterly as a title-winning skipper.
He pips Wellington's James Franklin, Auckland's Kyle Mills and ND's veteran seamer Graeme Aldridge by one season in terms of first-class longevity in domestic cricket.
The game has undergone significant change in the former New Zealand wicketkeeper's time. He welcomes the proposed moves to a franchise system.
"We're on the verge of a new era and hopefully this franchising privatisation does come through," Hopkins said. "I think it'll really push the professionalism of the guys forward and it'll push our game forward."
He believes it will lead to greater accountability.
"If you have an owner he'll want results. It's up to you to deliver them; there's nowhere to hide."
Hopkins, a resourceful lower-middle order batsman and tidy gloveman, remembered his early first-class years when cricketers didn't go to the gym or train as diligently, but there was a harder edge to the senior players.
"There were no-nonsense guys who let you know when you screwed up. You knew where you stood and what your job was.
"Now there's strength, mental, nutrition, technical, video analysis, so many tools you can use. Sometimes I think we get a little confused but each of them can aid you if you use them correctly."
Hopkins played 39 matches for New Zealand over six years. This season he overtook Ian Smith's record for most catches by a New Zealand wicketkeeper.
In 158 first-class games, Hopkins hit 7550 runs at 36.65, with 17 hundreds, took 435 catches and 26 stumpings, with 247 dismissals and 4013 runs in 203 domestic one-dayers.
He has no regrets, preferring to cherish his achievements rather than wallow in what-ifs. Hopkins has a pile of fond memories of teams, teammates and occasions, including several limited-overs titles, and he hit the winning runs in Auckland's last Plunket Shield triumph, over Central Districts in Lincoln in 2009.
A favourite memory is of leading Auckland to the brink of the semifinals in the Champions League in South Africa two seasons ago.
Having just completed a Bachelor of Business Studies, majoring in finance and economics, Hopkins wants to explore its possibilities. But he's also keen to put back into a game he loves, and which he's served at a high level almost half his life.
Impressive CV
*Gareth Hopkins played 158 first-class games for Northern Districts, Canterbury, Otago and Auckland from 1996-1997 until this year.
*He scored 7550 runs at 36.65 with 17 centuries, and took a New Zealand record 461 dismissals.
*He shares the record for most dismissals by an Auckland wicketkeeper in an innings (six) and in a match (eight), both of which he achieved twice.
*Hopkins played four tests, 25 ODIs and 10 T20 internationals.