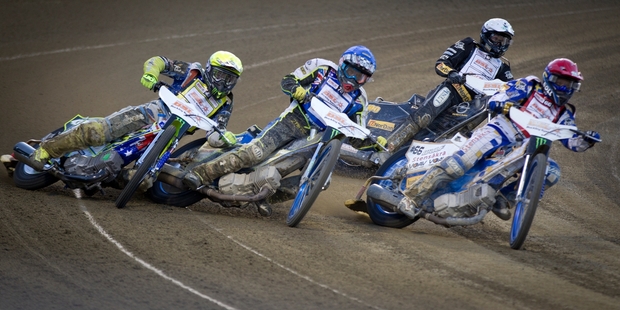 Speedway Grand Prix will almost certainly not return to Auckland.
Despite another great spectacle on Saturday night, a combination of poor crowds, eye-watering costs and inflexibility by Auckland Council is likely to consign the event to history.
A crowd of 9125 saw German Martin Smolinski win a spectacular final on Saturday. That was more than last year but fewer than for the first event in 2012 and not close to the number needed to break even, meaning local promoter Bill Buckley is staring at another six-figure loss.
"We will have the future sorted before the end of this month but if the crowd doesn't turn up, that's it," he told the Herald on Friday.
There had been talk of a second meeting in Australasia (possibly Sydney) to defray some of the costs of bringing the Speedway circus to the Southern Hemisphere but Buckley said that would not reduce the fees the international promoters charged.
"I would probably just lose spectators from Australia."
Laying the track is a huge expense, and he had looked at running an Australasian Sidecar Championships in the same week to use the bike track and spread some of the costs.
It was a good idea - New Zealand has some of the world's best sidecar racers - but the council is unlikely to amend the resource consent which limits Buckley to a set number of meetings a year at Western Springs.
Meanwhile, Andrew Aldridge of Christchurch provided one of those feel-good sporting moments on Saturday night. The 28-year-old track reserve was called into action in heat 18, after Australian Darcy Ward was concussed in an earlier race. He was given just a few minutes' notice - and happened to end up in the strongest heat of the night.
"I knew there were two world champions in it," says Aldridge. "Then I looked across the start line and saw [current world champion] Tai [Woffinden] pull in and thought, 'Wow, this has made it even harder."'
Aldridge once raced for British league team Bournemouth but since 2010 has raced only at amateur level in New Zealand, usually practising just once a week. Now on his inside he had two-time world champion Greg Hancock, outside him 2012 world champion Chris Holder, and Woffinden was in the far gate.
"I mucked up the start - a few nerves maybe - but it was good to know they weren't pulling away," said Aldridge. "They got to the first corner but didn't extend from there."
Aldridge, who still hopes to nab a New Zealand title one day but is now more focused on family life and his job as an engineer, came in fourth but wasn't disgraced in a career highlight for the scrapbook.
He raced yesterday at Rosebank Speedway in a local competition but will always remember his battle with the best of the best.
"It was an unreal feeling to be able to do it. It was nerve-racking to start with but once you let the clutch go that disappears and you focus on the race."