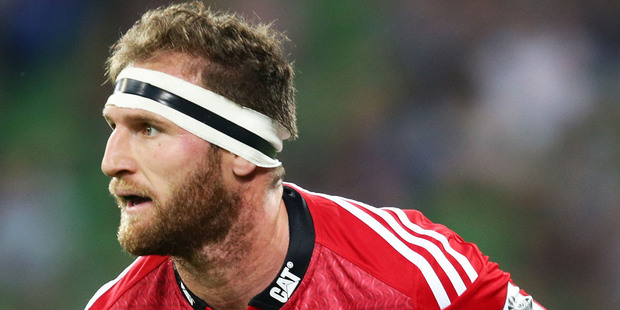 The limelight has never seduced Kieran Read but he understands it is a consequence of his play.
If he had a choice, he would prefer to go to work in his Crusaders or All Black uniform and then head home to his family.
However, Read has been raised in the world of professional rugby and understands the public components which come with his occupation.
As a top-level professional and the latest IRB player of the year, Read absorbs those details and gets on with his life. He rides the peripheral parts of his career and then zones into his training and playing details.
Tonight in Christchurch, family and the franchise faithful will turn up to pay tribute to Read who will become the 10th player to reach 100 matches for the Crusaders.
He is the IRB player of the year after an astonishing 2013 season with the All Blacks and is working hard to deliver more concerted sting into the Crusaders' plans for the Super 15.
The 28-year-old captain has become a mainstay for the team since he left his rural upbringing in South Auckland and took up an offer to further his game down south.
Read has a reticent public profile but those who followed his work through his early years then at Rosehill College, Papakura, talk about the unrelenting ambition he had to get to the top.
It could have been cricket where Read was an age-group representative.
He chose rugby instead and after age-group recognition, a change of location to the Crusaders' academy.
At school, Read's rugby benchmark was Richie McCaw. Even though he was a different shape, Read geared his work, technique and approach to the game on the work of a man he was soon to team up with at the Crusaders.
Read's rationale was clear and concentrated.
If he wanted to be rated with the best loose forwards in New Zealand and then the globe, he had to target the standards set by McCaw since his All Black test debut in 2001.
Some of Read's rugby mates at Rosehill had ability but none had his unshakeable determination.
He trained harder than anyone and had a ruthless intensity about his sporting ambition.
That blossomed with the Crusaders then All Blacks where Read's physical authority stands out and where his leadership and range of skills grows each season.
He delivers in the tight channels of the game where punishment lurks for those who show any uncertainty and then, as he is asked to do so often now, he produces some stinging and deft work attacking on the flanks.
Read's work continues the tradition New Zealand has for top No 8s with men like Brian Lochore, Alan Sutherland, Alex Wyllie, Murray Mexted, Wayne Shelford and Zinzan Brooke.
Read brings a cache of weapons to work.
His physical framework of 1.93m and 114kg is bigger than locks like Colin Meads from a previous era, while he carries that same ruthless attitude.
It is an approach that Shelford brought, Fitzpatrick mastered, McCaw has continued and Read is now fostering.