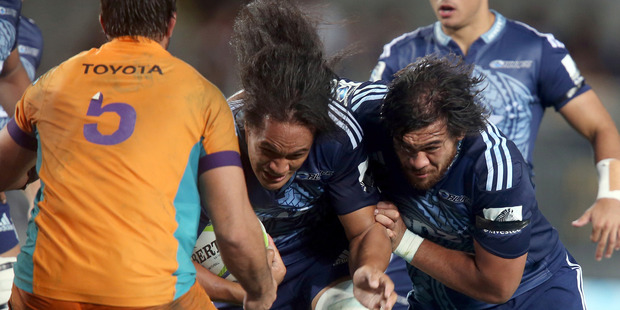 A big score, an easyish win and yet still no definitive clues as to what this Blues side are all about.
They progressed up the table, but whether they have progressed on any other front is debatable. Whether they came out of this game with more positives than negatives is hard to tell.
They again failed to find cohesion and consistency. They didn't scrummage well, didn't defend the Cheetahs' driving maul particularly well and in the final quarter, they were dropping off tackles and no longer covering the space.
The Cheetahs also did enough in the scrums to keep uncertainty high about the effectiveness of this area of the Blues' game.
That's a healthy list of negatives, but fatigue - given they have only just got back from Africa - could be a reasonable explanation.
So to the positives. Simon Hickey was one, for a start. This little lad is the business. He kicked his goals on a night when it really mattered that he kicked his goals.
Some of his kicking out of hand was a bit hoof and hope, other than that, though, it was another relatively polished and composed night from the 20-year-old.
The Blues were prepared to pick and go more through the forwards - a positive sign that they are preparing for the long winter ahead.
They picked up a couple of tries with the close quarter bashing and it's not such a bad idea for them to think about doing a little more of this direct, up the guts stuff.
The pack that finished the game had a fair amount of presence. There were oversized men everywhere: Ofa Tu'ungafasi, Charlie Faumuina, Steven Luatua, Peter Saili and Jerome Kaino - that's a fair bit of ball carrying punch.
And the arrival of Kaino and Ma'a Nonu, were probably the two biggest victories of the night. Neither had much of an opportunity to deliver a huge amount, but somehow the Blues looked more threatening and intimidating with those two out there.
There's little doubt that some thought is going to have to be given to starting games with Luatua and Kaino in tandem: the pair of them look like they could cause a fair bit of damage working in tandem and the Blues would lose the soft underbelly with those two on board for 80 minutes.
There was an element of frailty about the Blues for periods last night that will have troubled the coaching staff. The rolling maul from which the Cheetahs scored their first try was all too easy. Also when the Cheetahs' game was properly analysed, it showed they had just three weapons: a driving maul, Cornal Hendricks on the wing and the quite brilliant Willie Le Roux.
Those combined threats meant they could be troublesome in periods: do enough to hang in there but not really look like serious winners at any stage. To be fair, they made not a lot go a long way and that doesn't bode well for the Blues.
The Cheetahs found plenty of space when they went wide in the second half and with a bit more composure and better support running, they might have pushed closer then they did.
An exciting wild card last year, they were largely underwhelming last night, presenting the Blues with easy outs across the field. Those easy outs can be a killer because players learn bad habits and get away with doing the wrong things.
There are much tougher games lying in wait for the Blues. Their scrum has to improve, their lineout has to sharpen and their general effectiveness and execution has to leap.
There just wasn't much rugby last night - it struggled to break out between the endless individual errors, pedantic refereeing and ludicrous number of supposed injuries.
No flow, no game with these two. Neither are the sort of side that relish a game of inches. But inches will soon be vital as the rains fall and the better opposition arrives.
Blues 40 (S. Luatua, G. Moala, T. Li, T. Woodcock tries; S. Hickey 4 cons, 4 pens) Cheetahs 30 (B. Prinsloo, C. Hendricks, H. Daniller tries; J. Goosen con, 2 pens; E. Watts 2 cons, pen)