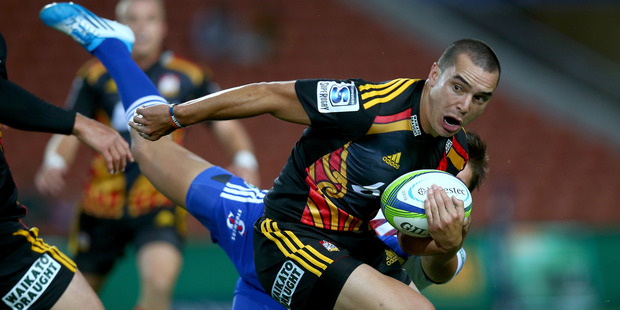 For a player who had just completed a dream debut, James Lowe cut a pretty glum figure following the Chiefs' win over the Stormers.
His disappointment was understandable - knowing his knee was in a bad way - but Lowe's performance was a striking silver lining breaking through the injury cloud.
That injury, a medial ligament strain, looks set to leave Lowe on the sidelines for four to six weeks, meaning he will miss the Chiefs' roadtrip to Perth and South Africa. And considering the way the Tasman winger scorched the Stormers in his first Super Rugby start, his absence is a blow for the defending champions.
The Chiefs had clearly identified a deficiency in the Stormers' defence down the left wing, meaning Lowe was at the forefront of his side's attack early and often during the 36-20 victory on Friday night.
Replacing Asaeli Tikoirotuma, Lowe never looked out of place after making the leap from provincial rugby, accruing 126 metres on 13 carries and scoring the first of the Chiefs' five tries against one of the meanest defences in the competition.
While it was hard to see the positives given the state of his knee, the 21-year-old did allow himself some satisfaction in his 80-minute run-out.
"I was glad that I put a performance in that I was happy with, especially for my first start,'' Lowe said. "I'm absolutely loving every minute of [Super Rugby] - but not really in the mood at the moment.''
He was certainly in the mood during a dominant first half against the Stormers, linking particularly well with Tasman teammate Tom Marshall, another making his first start of the season at second five.
"I first played rugby with Tom in 2008, first XV (at Nelson College),'' Lowe said. ``We understand each other, how we play. I know what Tom's doing and he knows what I'm doing.''
That partnership extends off the field, too, with Lowe revealing Marshall played a significant role in his decision to spurn the attentions of the Crusaders and head north. Judging by the blunt nature of the Crusaders' attack in their narrow win over the same opposition, Lowe's incisive effort against the Stormers must have been particularly galling for Todd Blackadder and co.
"It was a very tough decision,'' Lowe said of his Chiefs choice. "Both franchises have records that speak for themselves.
"But I just felt, for me at the time, the Chiefs would almost be harder, that there would be a lot more competition and that would bring the best out of me.''
That certainly appears true at this early stage of the season and, while his next appearance may be a month away, Lowe has time on his side.
- APNZ