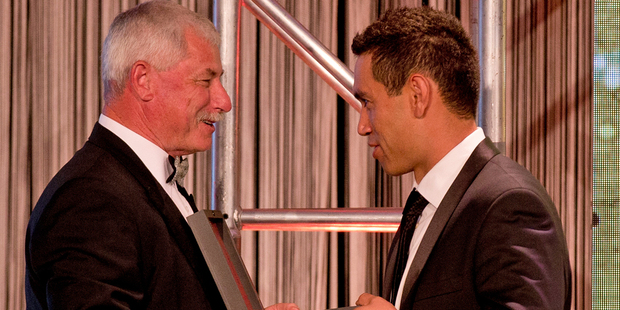 Ross Taylor capped a remarkable summer of international batting by being named New Zealand's cricketer of the year in Auckland last night, heading off triple-centurymaker Brendon McCullum.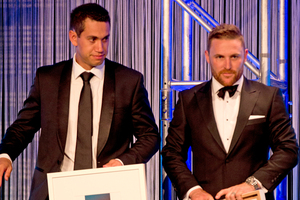 To make it a night of high personal achievement, Taylor also won the test and ODI player of the year awards and the Redpath Cup as leading first-class batsman.
Taylor scored 217 not out, 129 and 131 in successive tests against the West Indies in December, becoming only the second New Zealander after Mark Burgess (from 1969-72) to complete that hat-trick.
He hit 539 test runs at a whopping average of 134.75 in four tests against the West Indies and India, and made 343 ODI runs in five innings against India at 85.75, including two centuries.
His only serious challenger for the Hadlee Medal was national skipper McCullum, who hit a double century, then New Zealand's first triple ton, 302, in the two tests against India.
McCullum attended last night's awards with his wife, Ellisa.
Taylor's test average stands at 46.94, the best by any New Zealander to have had 20 or more innings. Only Martin Crowe (17) and John Wright (12) have more test centuries than Taylor's 11.
Taylor said the public support this summer had been especially pleasing. "When you win the odd test here and there you can feel the buzz ... Hopefully we can continue on that same path."
His favourite personal moment of the summer was his 217 against the West Indies in December. It was the former captain's first test double hundred.
Taylor also won the Sir Richard Hadlee Medal last season - those awards were not held then, so were presented last night - and, turning 30 tomorrow, is in the prime of his career.
Suzie Bates won the New Zealand women's player of the year title, also for the second time, while seamer Tim Southee was named first-class bowler of the year and Mitchell McClenaghan the T20 player of the year.
New Zealand Cricket awards 2013-14
• Sir Richard Hadlee medal (player of the year): Ross Taylor
• Test player of the year: Taylor
• ODI player of the year: Taylor
• T20 player of the year: Mitchell McClenaghan
• International women's player of the year: Suzie Bates
• Winsor Cup (first-class bowling): Tim Southee
• Redpath Cup (first-class batting): Taylor
• Women's domestic cricketer of the year: Bates
The men's award will be announced after the Ford Trophy finishes early next month.