Laid-back culture questioning New Zealanders traditional expectations of how athletes should behave.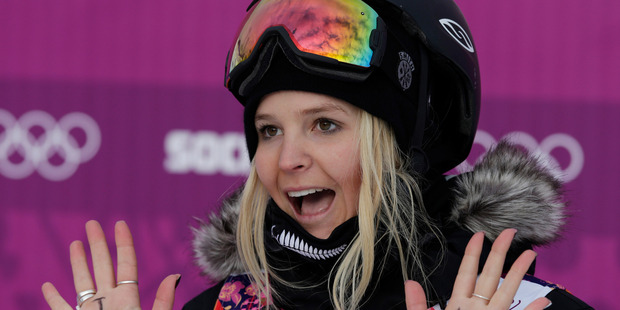 'Hi Mum" - Beaming down into the camera, after death-defying runs on both the halfpipe and the slopestyle course, those words have forged a host of opinions about "appropriate" behaviours and demeanours of our freeski athletes at the Sochi winter Olympics. With those two little words the general perception at home became one of surprise and, eventually, some criticism and cynicism.
" It's more like watching a bunch of Kiwis on an expensive skiing holiday," wrote Herald columnist Dana Johannsen. All because, as they lined up to await their results, the freeski winter athletes looked relaxed, confident, calm, cocky even; and when they didn't get that coveted medal their laissez-faire attitude seemed to portray that they didn't care.
Gosh, the hopes of a nation dashed and still they seemed to be enjoying themselves. This isn't how our athletes should be. Surely, they should show more decorum, disappointment, anger or tears.
But these are not the traits of the "typical" freeski athlete. Looking relaxed, calm, laid-back, high-fiving your mates, and having fun - these are the real traits of freeski athletes the world over.
It's a new sport, and with that comes a new culture. It's a culture that has grown up around extreme risk and like the brand new Olympic event that is known as freeski, viewers are seeing the freeski in its entirety - the event and the culture - and for many, it's appositional to what we have ingrained into us from mainstream sports, about who, what and how athletes must be as they enter and exit the fray of Olympic competition.
However, for those of us who have been around the freeski community, their seemingly casual approach to their competition and results was quite normal. It's who they are. It's why they are freeski athletes and not rugby or netball players or rowers or alpine skiers.
The freeski athletes representing our country in Sochi are those who innovated and pioneered the sport. Like many other extreme sport athletes, the attraction of competing in it comes not only from attempting more and more intricate tricks, but also in the "casualness" of it. Not for them are the strict routines and training of the alpine skiers getting up the mountain at 6.30am on a freezing winter morning, to run gates while the snow is still as hard as ice.
They are attracted to freeski for its individuality and, wait for it, its "fun". In both competition and training, there is a collegiality that isn't fierce, warrior-like (think rugby here) and highly competitive.
It's a small, global community. They all know each other and because the sport has only been around for less than a decade, all of our senior freeski athletes have developed their own identity and style. They push the envelope and they know it.
Recognition is not from the public, it's from the freeski community. And hard-fought-for sponsorship comes with competing in and winning non-Olympic events. Kudos comes when new tricks are nailed and "sick" runs are put down. Tricks that not only have impossible names like "double-cork 10" but defy gravity and are highly risky - just ask those who have medical documents as long as their skis.
It's a certain type of person who does that. It's a person who has trained for years in a sport where government funding, public recognition and even, some years, snow, are scarce. It's a person who, while gathering their minimum 10,000 hours as an emerging youth athlete, depends on Mum, Dad and whoever else has deep pockets to get to freeski events around the world to compete. It's a person who hasn't in the past worried about an Olympic medal, because there were no freeski events in the Olympics. The pay-back comes through competing in the European and United States Winter X-Games.
In researching the culture of elite winter athletes, Dr Holly Thorpe from the University of Waikato says an important and mounting issue for the contemporary Olympic movement is how to remain relevant to younger generations. In this respect, our athletes did a great job of showing the world what slopestyle and halfpipe events are all about.
But what was missing was an explanation of the culture that has evolved around the sport. This is where the viewing public and sports journalists might need, like the freeski athletes, to loosen up a little.
New Zealand is already on the world stage with the talent and emerging talent of young freeski athletes. They train hard. They do care. They are passionate.
As indicated by Sport New Zealand's Young People's Survey in 2012, younger athletes these days are attracted to sports that sit outside the realm of the traditional. They are attracted to them because of their "culture" - whereby they can be themselves, be with their mates, perform new and exciting tricks, have fun and hopefully, one day, be able to beam down the camera and say "Hi Mum" without too much criticism.
Wendy Sweet is a fitness industry consultant.