Andrew Alderson identifies four pillars that sustained the New Zealand cricketers through the summer of content and four areas that will require improvement.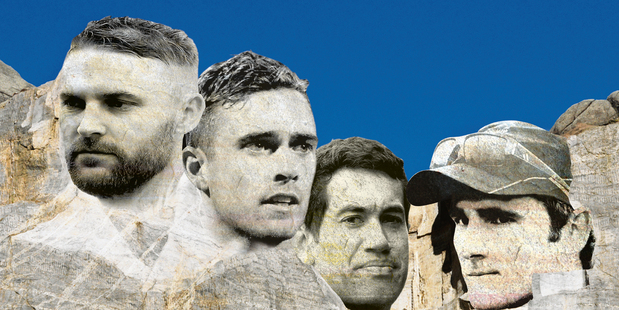 Pillars of strength
1. Individual leadership
Even before becoming New Zealand's first triple century-maker, Brendon McCullum had gelled the operation; a scenario scarcely imaginable a year ago when cricket in New Zealand threatened to implode following the Ross Taylor captaincy demotion.
McCullum deserves credit for balancing the needs of senior players, in particular Taylor, while convincing younger players they belong at international level.
The 32-year-old is generally composed and communicates clearly, something the team has responded to under pressure, like in the first test win at Eden Park.
Then came the 302, a first for a New Zealander in 84 years of tests. It wasn't so much the figure, but the circumstances of its execution.
His tenacity left an indelible mark on the country's sporting history. The feat compounded the inspiration offered by the team this summer for fans who long ago could have slipped into apathy.
The second test recovery from 94-5 to post the country's record score, 680-8, represented the skipper's finest hour as a test batsman. With BJ Watling, he posted the world record sixth-wicket stand of 352. McCullum also came to the wicket at 30-3 in the first test before making 224 with the support of Kane Williamson.
The catalyst to that inspiration came from Taylor's three centuries in consecutive tests against the West Indies. His unparalleled self-belief translated to the team.
He has praised mental conditioning work with Gilbert Enoka and Gary Hermansson for boosting his concentration skills.
It prompted McCullum, after the Hamilton test victory, to say "if he [Taylor] was to retire now he'd go down as one of our all-time greats - and I said [to the team] we should enjoy watching a guy like that."
He went on to hit consecutive match-winning centuries in the last two ODIs against India to underline his prowess.
Williamson was locked to Taylor in importance because of the pair's combination as a 3-4 batting punch which looked as good as the national benchmark of Andrew Jones and Martin Crowe. At 23, Williamson has been at the forefront of a professional revolution. He also has one of the best temperaments and techniques in the world for dealing with crises. The fact his captaincy prospects are talked about openly as a "when" not an "if" sums up how his talents are respected. He's New Zealand's Mr Cricket.
The batting trio were backed by Tim Southee and Trent Boult who are making a strong case as the best opening bowling partnership in New Zealand test history. Try this for balance in the five tests against the West Indies and India: Boult took 30 wickets at 19.26, Southee 29 wickets at 20.27. That offers little respite for opposition batting orders. They feed off each other's success.
2. Collective man-management
Let's start with coach Mike Hesson. 'Coach' tends to be a misnomer. He prefers to work like an unobtrusive DJ, seamlessly spinning the vinyl in the background while his players dance their tune. He prefers to let his captain lead, as most great sides have done. His planning is paying dividends as someone who describes himself as "no show pony" and a "clinical sort of bloke" who tries to "balance out the highs and lows". There was no better example than tight moments in the second test leading to McCullum's 300. "We all sat on the same seats for a couple days, ate the same food and tried to do as little as we could," Hesson said.
Along similar lines to Hesson has been the measured approach of Bruce Edgar since his August appointment to manage team selection. He has brought professionalism, objectivity and effective communication to the role. A core group of players has been established which looks sound for a couple of years. Sure, Edgar's one of New Zealand most respected former players but his method and logic, drawn from a financial consultancy background and qualification as a level three coach, are paying dividends.
There has been a revolution in professionalism. After the 4-0 ODI defeat of India, McCullum said: "It's great seeing guys mature into their roles and their careers but we're not good enough to be complacent. These guys put in a lot of hours of hard graft."
That attitude continued into the tests. The work ethic was pervasive, be it Williamson getting throwdowns at every opportunity or Mitchell McClenaghan introducing teammates to the benefits of the fitness programme CrossFit.
When news leaked of Jesse Ryder and Doug Bracewell's transgressions before the first India test, it only raised dressing room motivation. The threat of getting axed from a team on the rise will prevent further indiscretions. Such matters bond teams tighter, especially when kudos the team deserved from their Eden Park victory was diluted as a result.
3. Mixing team men, raw talent and specialists
Every team has its stars - in the summer of 2013-14 they have been McCullum, Taylor, Williamson, Boult and Southee - but others are required for reliable support and advice. In the test team the input of veteran first-class players like Peter Fulton, Neil Wagner and BJ Watling or Nathan McCullum, Kyle Mills and Martin Guptill in the one-dayers, is hard to quantify but useful in building camaraderie.
Match that with the emergence of raw talent. Corey Anderson was a revelation with the fastest ODI century in 36 balls at Queenstown on New Year's Day. The Mumbai Indians concurred to a point where they invested $866,000 in his Indian Premier League services this season. The other strong movers, all-rounder Jimmy Neesham (with the highest score, 137 not out, by a No8 batsman on test debut) and pace bowler Matt Henry (four wickets for 38 on ODI debut), have been secured by the Delhi Daredevils and Chennai Super Kings respectively. All three look set to be part of New Zealand's World Cup plans.
Players were also picked with a clear view to their roles. In tests it was accepted Wagner would do the toil into the wind as the third seamer while Ish Sodhi had a licence to bowl aggressive leg spin. In limited overs, Mitchell McClenaghan was there to take wickets while Kane Williamson was granted an anchor brief.
4. Public support
How often have talkback stations, social media and online feedback forums hummed with such goodwill about the national side? The occasions are rare enough to be listed by month since Sir Richard Hadlee's retirement in 1990: February-March 1992 (World Cup), July-August 1999 (England test series win), January-February 2002 (ODI tri-series in Australia), February 2007 (Chappell-Hadlee series whitewash). Slim pickings.
McCullum's triple century, the country's finest test innings on several fronts, was the coup de grace in a summer of goodwill. For many New Zealand fans that might be the greatest cricketing accomplishment they see in their lifetimes. Spine-tingling gravitas engulfed proceedings with the crowd ooh-ing and aah-ing each seminal moment. McCullum even received an ovation before going out to bat on the final day as people queued to get into the ground.
Hesson summed it up: "It defined the way we want to play our cricket ... yesterday stopped a nation to a degree. As a New Zealander, not only as coach, it was a pretty special moment."
With the World Cup returning to New Zealand for the first time in 23 years next year, this summer was the perfect entree to capture hearts and minds.
Areas to improve
1. Openers
Peter Fulton and Hamish Rutherford are now under official observation with the start to the final round of the Plunket Shield today. After an initial partnership of 95 against the West Indies in Dunedin, their fortunes have dwindled. Their average together in 21 innings is 33.19, a figure once in excess of 40. They have not endured beyond the 13th over in their last eight outings, averaging 14 from 37 balls. Contradictorily, Fulton plays sweetly through mid-wicket but looks vulnerable on middle-leg to lbws; Rutherford's drives make for compelling cricket but he has passed 50 just once in the 20 innings since his century on debut. Opener Tom Latham's debut for 0 and 29 in place of Ross Taylor against India in Wellington, having averaged 68.70 in first class cricket this season, is calculated with a test tour to the West Indies in the offing. Aaron Redmond and Martin Guptill are other options. A designated hitter also needs to be found to replace Jesse Ryder in the limited overs game. Guptill could assume that role with Kane Williamson opening steadily beside him at the World T20; Corey Anderson or Jimmy Neesham could be bolters.
2. Spinners
Leg spinner Ish Sodhi looks certain to head to the West Indies in May and presumably Pakistan in November, given he's considered a long-term successor to Daniel Vettori. His googly, top spinner and Boxing Day test tutorial with Shane Warne are seen as assets to counter 11 test wickets at an average of 59.72. If Vettori's unable to return to full fitness, Williamson can be used as a back-up. Alternatives in Plunket Shield action this season are one-test leg spinner Todd Astle (23 wickets at 38.86) and Otago off-spinner Mark Craig (22 wickets at 39.72). If the selectors are looking to back experience Nathan McCullum's 10 wickets at 33.80 this season is a serviceable record. Spin remains the area of least depth in New Zealand.
3. Dealing with World Cup hype
New Zealand are now World Cup contenders. Improving beyond their six semifinal appearances in 10 tournaments is within reach. That statement is not made lightly. In the build-up to almost every other tournament they are referred, politely but often patronisingly, with euphemisms such as "could threaten on their day" or "a squad of earnest toilers". The ODI team, as much as the test team, are galvanising the public. The fanbase respects and believes. With a World Cup at home the players have to embrace the mood and capitalise on a unique opportunity.
4. Improving the overseas test record
Regardless of World Cups, purists know test cricket is the benchmark. A move to seventh in the test rankings ahead of the West Indies (both on 87 points) needs consolidation. Sixth-placed Sri Lanka are within their sights on 89. Beyond tours to Zimbabwe and Bangladesh, New Zealand last won an overseas test series in the West Indies in 2002. Ouch. Before that? England in 1999. Surely this team is capable of beating the current West Indian outfit away. Will the plan to get players used to subcontinental pitches by taking the 'A' tour there last year reap benefits against Pakistan in the United Arab Emirates in November? Fans could be in for welcome respite.