Venue clash during the 2015 World Cup extravaganza makes early start an option.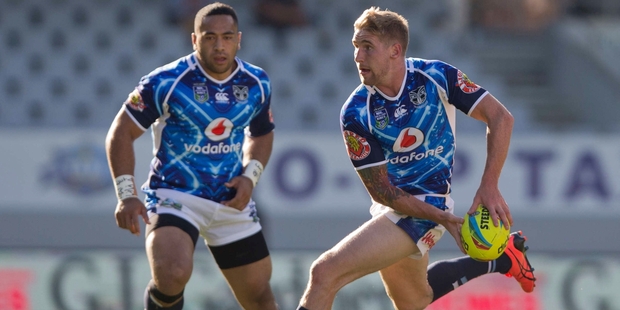 Exclusive
The Auckland NRL Nines could take place on a Friday and Saturday next year because of a venue clash with the Cricket World Cup.
Eden Park was close to capacity on both days of the inaugural nines tournament, with nearly 90,000 fans turning out over the weekend, but a Friday start to the tournament might see fans scrambling for a day's leave from work.
With Eden Park unavailable from February 1 due to Cricket World Cup commitments next year's tournament will be in January, three weeks earlier than this year's event.
Dean Lonergan, of Duco Events and co-organiser of the Nines, will meet with the NRL later this month to review the inaugural event and plan ahead to next year but said January 30-31 would be the "most logical date".
"There are some restrictions around field usage that were given to the Cricket World Cup authorities three or four years ago when they secured the ground.
Once February 1 comes around there is a two-month window where no one can use Eden Park. The only available weekend will be the last week of January 30-31," Lonergan said.
Auckland Anniversary is the previous Monday which would leave the weekend of January 24-25 as an option. However, teams might not be keen on an even earlier date.
The first Cricket World Cup game at Eden Park isn't until February 28 when the Black Caps face Australia in a pool match.
"The NRL will be the ultimate arbitrator to which date it is played. We'd be very happy with that date. The weather was a contributing factor over the last couple of days and January 30-31 the weather's at its very best," Lonergan said.
"Feedback from the players and the captains and coaches, end of the day they're the ones that get out there and play the game and we have to make sure they're happy with it."
NRL CEO Dave Smith said he's open to new ideas around the tournament, such as expansion, when they sit down with Duco.
New Warriors recruit Sam Tomkins is keen on Super League teams being part of the event saying there is room for a couple of teams.
"I don't see why they shouldn't. There's enough room for another two teams in this. Wigan would be perfect. Whether it would be to an English side or a guest side, it would attract more fans."
Warriors Nines coach Ricky Henry was also open to changes and even the possible inclusion of rugby players.
"We have seen Brad Fittler and Steve Menzies come out of retirement so you might see some other guys come out and play the competition. You never know. There might be opportunities where you see All Blacks and Wallabies playing in it as well. Anything can happen."