No team has won a Super Rugby title without a test-class first-five: Carlos Spencer, Andrew Mehrtens, Stephen Larkham, Daniel Carter, Morne Steyn, Quade Cooper and Aaron Cruden are the title-winning 10s. Gregor Paul assesses the current crop of New Zealand hopefuls. Statistics from Opta.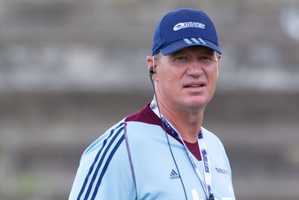 It's time now, less than a week from the Blues' first game, for Aucklanders to make up their minds about Benji Marshall.
Those who think they are Marshall supporters need to ask whether they really are because, ever since Marshall was linked with the Blues, there has been an undercurrent of negativity: an almost palpable sense that everyone purporting to be pro-Marshall is a secret doubter.
Maybe not even doubters; more coiled fence-sitters waiting to unleash at the folly of the Blues' extravagant and misguided ways. Many people, it seems,would enjoy Marshall failing more than succeeding.
Why is that? Is it tall poppy syndrome - the big shot from the NRL thinking he can waltz into Auckland and rugby and own the town and code on the back of his reputation? Is it simply patch protection - rugby followers not keen to embrace a figure who, regardless of what happens from now, has league in the blood?
There's some of that but the real source of this dormant schadenfreude possibly lies in this strange propensity of Aucklanders to project an image of themselves as anything other than proud Aucklanders.
Spend timein the regions and the extent of anti-Auckland sentiment becomes obvious. In the face of such venom,many Aucklanders are determined to prove they don't fit the Jafa stereotype. There's often a frantic distancing.
Therein lies the rub with Marshall; luring a big-name star from the NRL and paying him a monumental salary is high risk. It's bold, it's brash, it's an obvious marketing triumph - a victory for style over substance and what could be more quintessentially Auckland than that?
Coach Sir John Kirwan's vision is to build a culture at the Blues which is an extension of the wider city. For too long, the Blues have either had no identifiable sense of themselves or have tried to replicate the culture of others.
None of Kirwan's predecessors have celebrated the city's differences. None has asked what it is about Auckland that fosters somuch resentment around the country and whether these quirks and idiosyncrasies can be embraced and harnessed.
There's a reason that Marshall, with his fame, many endorsements and TV presenter wife didn't consider going anywhere else in New Zealand. Auckland has the pizzazz, glamour andmaturity to house him with minimal fuss in much the same way Sydney did.
That's reason for Aucklanders to be proud rather than embarrassed. This idea that New Zealand is defined by square-jawed sheep farmers, cold beer, tractors and loyalty to the Empire may be alive in the provinces. But that is old New Zealand. Auckland represents the new face of the country: multi-cultural Auckland and its obsession with coffee, schools, celebrities and property prices is New Zealand's window to the rest of the world.
So to wish Marshall to fail is to wish Kirwan the same fate.
There are other reasons to support Marshall - for the best part of the past decade, the Blues have been lambasted for their failure to either develop or buy a world class first-five. Kirwan went all out for Beauden Barrett last year and nearly persuaded him to move to Auckland.
Kirwan also had an iron in the fire with Marshall, arguably the best No 10 not on contract and prepared to play in Super Rugby.
There probably isn't another New Zealander with the same range of skills asMarshall; Kirwan is backing himself and his wider team to refine the raw material. The Blues already had a couple of safe, no frills first-fives in Chris Noakes and Baden Kerr -they didn't need a third. This competition is all about the No 10 -no side has won without a world class play-maker.
Neither Kerr nor Noakes fit that description. Right now, nor does Marshall. The difference is, with all due respect to Kerr and Noakes, they most likely never will, while Marshall, in time, might. Marshall's both an investment and a gamble, as he'll need time to develop and even then, hemay never crack the code.
If he doesn't make it, the Blues will have ventured but not gained -and in that there is no shame.